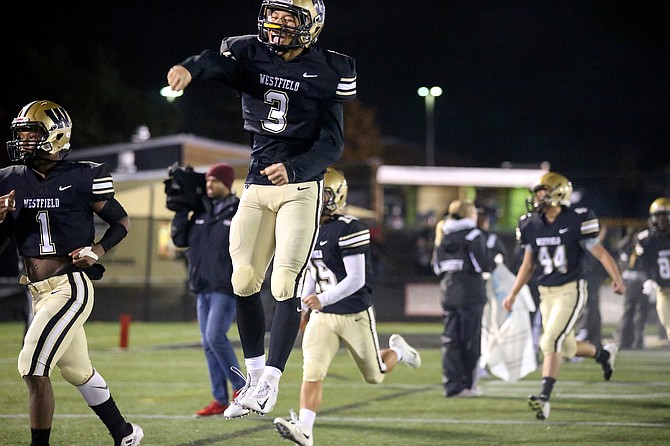 It was the first matchup between these two teams. Westfield coming in with a (10-0) regular season record and a 34-game win streak. Yorktown coming in with a (6-4) regular season record. Both with high hopes to advance to the second round of the playoffs.
Westfield scored early when Isaiah Daniel ran in with 8:20 to play in the opening quarter. After a successful Riley Nugent extra point. Westfield took an early 7-0 advantage. Later in the quarter Saadiq Hinton intercepted Yorktown QB Grant Wilson, setting up Westfield with their second score. Taylor Morin received Noah Kim's pass, taking it in from 16 yards, giving the Bulldogs a 14-0 advantage after another successful Riley Nugent extra point.
In the 2nd quarter Isaiah Daniel rushed in from 4 yards out for his second touchdown of the game. Another successful extra point by Riley Nugent gave Westfield a 21-0 advantage. Westfield's Aron Dishun intercepted Yorktown QB Grant Wilson, setting up the Bulldogs on the Yorktown 29-yard line. Joe Clancy ran in from 5 yards out and Westfield was up 28-0 with still 7:05 to play before halftime. Westfield's Taylor Morin added his second touchdown of the game on a 26-yard pass from QB Noah Kim with :18 left before halftime giving the Bulldogs a 35-0 halftime lead.
With 8:12 left in the 3rd quarter Isaiah Daniel scored his third touchdown of the game, running in from 18 yards out. Riley Nugent's extra point made it 42-0. Two minutes later Yorktown got on the board when Jake Reilly ran in from 1 yard out. The ensuing extra point was blocked by Westfield, and the score was 42-6.
In the 4th quarter Taylor Morin scored his third touchdown of the game, this one from 15 yards out with 11:18 to play in the game. Riley Nugent was again successful with the extra point giving Westfield a 49-6 advantage.
With the win Westfield (11-0) advances to the second round and will play South Lakes (9-2) in Chantilly on Friday Nov. 16 at 7 p.m. South Lakes defeated Marshall 39-15.
A special ceremony at the end of the game celebrated Westfield's 200th win in program history, and Head Coach Kyle Simmons 100th win.

Yorktown's season ends at (6-5).
Westfield was led by Noah Kim who completed 21-25 passes for 259 yards, 3 TDs and 1 INT. Taylor Morin caught 8 passes for 110 yards and 3 TDs. Bizzet Woodley caught 7 for 78 yards, and Gavin Kiley caught 5 for 65 yards. Isaiah Daniel carried the ball 15 times for 106 yards and 3 TDs. Yorktown was led by Grant Wilson who completed 12 of 23 passes for 123-yards and 2 INTs. William Porter had 4 receptions for 25 yards, Jakore Harmon carried the ball 5 times for 18 yards. Jake Reilly carried the ball two times for 9 yards and Yorktown's only TD.