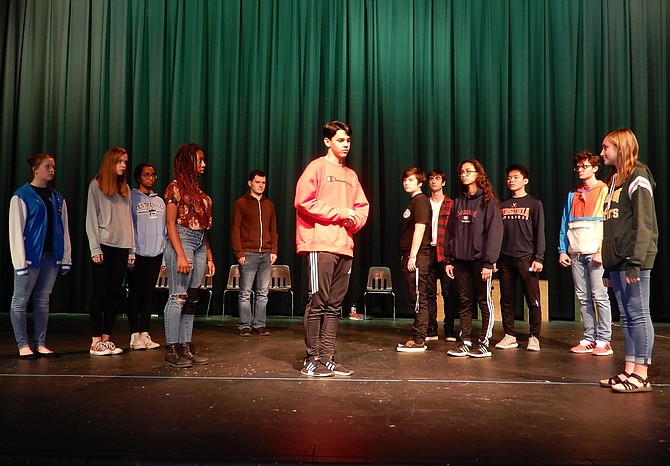 Centreville High's upcoming play, "The Curious Incident of the Dog in the Night-Time," is a drama centering on a 15-year-old autistic boy, Christopher, who's accused of killing his neighbor's dog. He writes a book about his life, this situation and how he handles it, while trying to figure out what happened — because he's not the culprit.
The curtain rises Friday, Nov. 16, at 7:30 p.m.; Saturday, Nov. 17, at 3 and 7:30 p.m.; and Sunday, Nov. 18, at 3 p.m. Tickets are $10 at the door or via www.theatrecentreville.com (with no fee for online orders).
"I've seen this show before and was quite taken with how it told the story of autism without ever mentioning the word," said Director Mike Hudson. "Christopher is given a school assignment to write a book, and this play is his book, narrated by his teacher reading from it."
In one sense, said Hudson, "Christopher is trying to find out who killed the dog because he's curious. But the search impacts his life because he ends up doing things people didn't expect him to be able to do. The playwright's intent was to teach us we're not the sum of our labels, because Christopher shows that he can perform beyond others' expectations."
The play features a cast and crew of 24 and is mainly set in modern-day London.
There's minimal scenery, but a great deal of color and motion created by the lighting. And all the actors had to do extensive research to make themselves more aware of life with autism to better understand what's going on in the play.
"It's difficult because the story's told from the unique point of view of an autistic person and the way he thinks," said Hudson. "But the actors are all doing well, with strong, character portrayals — especially Danny Villalobos, who's doing an amazing job of bringing Christopher to life. Hopefully, the audience will leave with a better understanding of the disservice we do to ourselves and others by making judgments about people based on labels."
Villalobos, a sophomore, makes it clear that Christopher Boone isn't just 15, but 15 years, 3 months and 2 days old. "He's extremely intelligent and is like a humanized machine," said Villalobos. "He's very pure, authentic and not phony; he responds to everyone the same way, no matter who they are. But his mind works like a computer, specific and organized."
Not surprisingly, said Villalobos, Christopher is very interested in computers, science and math. "In every room, he sees numbers, shapes and things related to math," said Villalobos. "And every, single detail is accounted for in his mind — it's incredible."
As a result, Christopher is a complex character to play, Villalobos said. "The script just tells you his words, but I read the book — which told me the meaning behind everything he said," said Villalobos. "But portraying him came naturally because, in a way, I, too, take notice of many things. So playing him was amplified, but less social."
It's also tough for Villalobos when Christopher acts like a computer. But, he said, "In reality, he has one of the purest hearts. I got so immersed in the character that I picked up some of his habits, like fidgeting. But it's a thrill portraying Christopher because it lets me take a new perspective on how everything in life has meaning."
Villalobos said the audience will also enjoy the show's "stunning visuals of how we bring Christopher's thoughts to life. We do it through lighting, the characters, special effects and deliberate movement. People will go home thinking how we underestimate the power of 'disabled' people, but that there's more to them than meets the eye. They'll also have a greater appreciation for life as a whole."
Narrating the show and playing Christopher's teacher, Siobhan, is sophomore Ysanne Sterling. "She's kind, patient and compassionate, almost like a mother figure to Christopher because his mom is dead," said Sterling. "She's also good at reading people and piecing things together, and she's trusted by everyone she knows."
Sterling enjoys acting with her castmates; but for her, the role is also personal. "My little sister is mildly autistic," she said. "So it's cool to play someone so close to an autistic character because I can relate to her."
She said the audience will like how "wild and insightful" the show is, while getting to see how Christopher's mind works. "And they'll be able to tell how much fun we're having doing this play," added Sterling. "All of us are onstage, the whole time, and we make up the physical scenery that comes together to enhance what's happening in the story."
Sophomore Makayla Parker portrays one of Christopher's neighbors, Mrs. Alexander. "She's friendly and outgoing and wants to be his friend," said Parker. "She's just a nice person and knows all the neighborhood gossip."
"It's fun playing her, but it's also challenging because she's elderly and British," continued Parker. "But it helps me stretch as an actor, and I like interacting with Christopher."
As for the show, she said people will learn "a lot about speaking with autistic people in real life. They'll also like the story's mystery. Many people try to help Christopher on his journey — and it's a struggle for him — but they help in their own ways."
Playing Christopher's father, Ed, is senior Maxwell Leitch. "He's a caring father, but isn't without flaws," said Leitch. "He has quite a temper and has had to deal with a lot after his wife left him. He told Christopher his mother died, but she really couldn't deal with the pressure of raising an autistic child. She left when he was a young boy."
However, added Leitch, "As Christopher gets older and is becoming his own person, Ed's losing control over him. He's trying to be the best father he can be, but he doesn't always make the right decisions and sometimes yells at Christopher. But it's because he's afraid of losing everything."
Leitch's own dad is from England, so he identifies with Ed's mannerisms and way of speaking. "I love acting, and it's fascinating trying to explore someone else's character and delve into their past," he said. "I like to make people feel the emotions my character is feeling, and Ed has lots of emotions to show."
Leitch said the play has messages of "fatherly love, exploring yourself and becoming an individual. It's a growing up, coming-of-age story for Christopher, so it's relatable to everyone. It's very interesting, and I'm excited about the way we're doing it; it'll be really entertaining for the audience to watch."