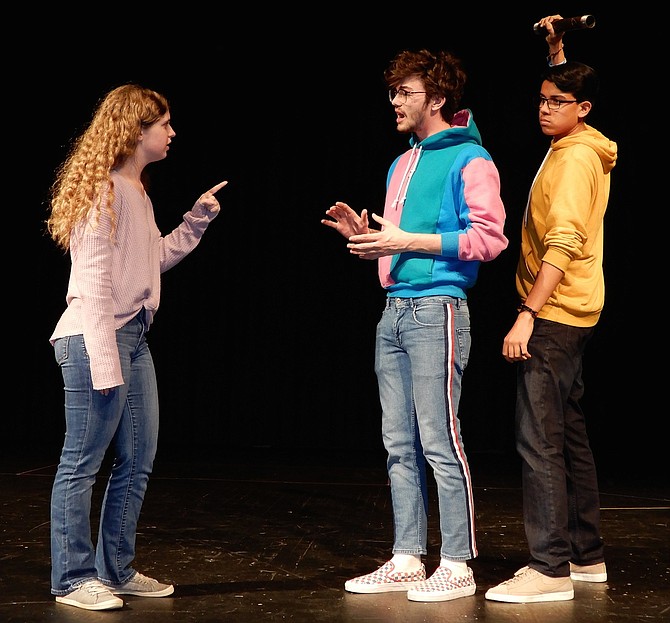 Was it Col. Mustard in the study with a wrench? Or Miss Scarlett in the library with a rope? These questions and others will be answered when Centreville High presents the comic, murder mystery, "Clue."
Based on both the classic game and the 1985 movie, the play is set for Friday, May 3, at 7:30 p.m.; Saturday, May 4, at 3 and 7:30 p.m.; and Sunday, May 5, at 3 p.m. Tickets are $10 at the door and via www.theatrecentreville.com.
In the story, a group of people are invited to a dinner party – and each person is being blackmailed by the host. He then asks each guest to kill his butler for him – but instead, he ends up the victim. Then they all try to solve his murder before the police arrive.
There's a cast and crew of about 25, and Director Mike Hudson says it's going to be "a hysterical show. As soon as it became available for high schools to perform, I was jumping up and down because the movie, 'Clue,' came out about the same time as the movie, 'Murder by Death,' which I loved, but which had no screenplay for staging."
"I thought it would be great for high schools because it's a satire of the murder-mystery genre, it's funny, is full of action and energy, and should be enjoyable for all ages," he explained. "We have a lot of exciting talent in this show. I'm fortunate to have had these students available to cast in these parts because they're really making these characters live."
WITH THE STORY set in 1959 in a dark, gothic mansion on top of a hill in the Massachusetts countryside, anything can happen. The party guests will be dressed in suits and cocktail dresses as the mystery deepens and the comedy unfurls. As for the audience, said Hudson, "I just think they're going to have a rip-roaring time."
Senior Maxwell Leitch portrays Wadsworth, the butler. "He's British, very attentive and clever, with a witty, dry sense of humor," said Leitch. "He's also the driving force of the story and moves everything along."
Leitch is enjoying his role because Wadsworth "has a lot of energy and is an explosive character. He yells and can get very dramatic in a funny way." He said the audience will like the show because "It's really funny and a good time. And the set will be really cool. We'll have a turntable where different rooms will rotate on and off."
"We also have lots of hilarious characters and talented actors," he continued. "And the story has many twists and turns and a lot of surprises that'll keep people in suspense."
Playing party guest Col. Mustard is senior Ricky Muñoz. "He's a retired colonel and a bit of a blowhard," said Muñoz. "He's not very intelligent, but he has strong convictions and is stubborn. When he interacts with the other guests, he's often confused about what's happening. So he spends some time trying to orient himself to protect himself from the fallout that could come as a result of him being blackmailed."
Muñoz, too, likes his part because he enjoys portraying comedic characters. "And after being in theater here for four years, it's nice to go out with such a fun role and something that just lets me be stupid," he said. "And Col. Mustard gives me a unique opportunity to be out there in a way I haven't been before. He really borders on the ridiculous."
Muñoz describes the show as "a classic, murder mystery and very engaging. People are always in conflict, throughout the show, and groups of people are constantly butting heads. This show is absolutely hysterical, and I'm excited to see it come to life onstage."
SOPHOMORE Lydia Buono portrays party guest Miss Scarlett. "She's a madam and owns a brothel," said Buono. "But she's not ashamed of what she does and is very elegant, but also a little tawdry. She's also snoopy and wants to know other people's secrets so she'll have power over them and be above them."
She said this role is a little out of her comfort zone. "But that's what I love about playing her," said Buono. "She's so different from me, so I get to stretch myself as an actor. I also like that she's so cunning and confident in herself, and I aspire to be like that."
Buono said audiences will love this show because "Both the plot and the set are intricately designed. And each character is unique in their own way – and that's what makes it super fun to perform and to watch."
Playing Professor Plum, also a party guest and a college psychology professor, is senior Nick Mazzi. "He's a smarmy character, intelligent, clever and witty," said Mazzi. "He gets along with Scarlett and is definitely a ladies' man. He's more of an outsider than the other guests, but he also enjoys smoking, drinking and being at parties."
Mazzi is having fun with his part. "I like his smirkiness," he said. "He's thinking, 'Hmmm…how many women are here? Are there drinks? And how can I get close to you, get your number and take you home?' He thinks he's smooth, but he comes off as more of a creep. I've never played a character like this before, and it's fun because you don't see characters like him, all the time."
"The audience will like the relationships and chemistry we're able to show onstage," he said. "The play is complex, but not confusing. It's actually very engaging and really gets the audience thinking. As soon as you think you know what's going on, something happens and changes your perception."