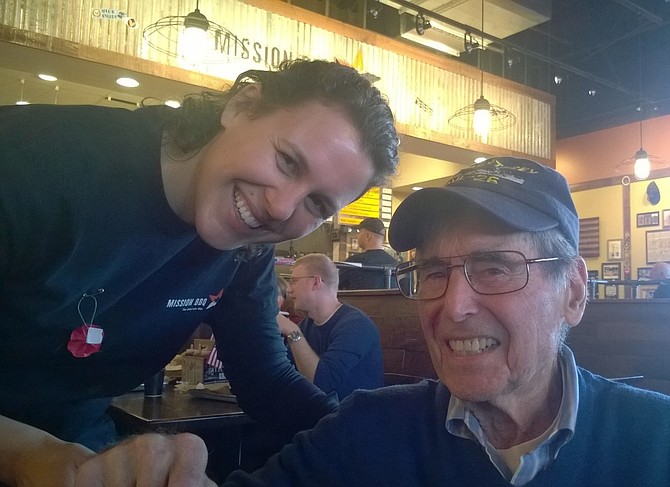 A restaurant in Chantilly and its patrons completed their mission Sunday to show appreciation to veterans Nov. 11 with a Color Guard, a brass quintet and free barbecue.
Ordinarily, staff and patrons of the MISSION BBQ restaurant at the Greenbriar Town Center show respect every day to military servicemen and women, local law enforcement and first responders. At noon sharp, they all stop what they're doing to salute the American flag and sing the National Anthem.
Veterans Day, however, is extra special.
At noon Sunday, a small group of patrons got a taste of winter and braved 41-degree weather to mark the 100th anniversary of an armistice that ended the First World War. They remembered all fallen American heroes since this four-year global conflict — called the "war to end all wars" — claimed the lives of 116,515 American soldiers and wounded 200,000 troops, according to worldwar1centennial.org.
The website notes women joined the U.S. armed forces for the first time in World War I. Also, more than 350,000 minority Americans were among the 4,700,000 servicemen and women, who served the United States in uniform.
For the second consecutive year since its March 2017 opening at 13067 Lee Jackson Memorial Hwy., MISSION BBQ salutes one of its loyal patrons: Sigmond Alman of Oakton.
The 93-year-old veteran served in World War II as a radar operator aboard the USS Monterey, a light aircraft carrier on which an officer — who would become the 38th president of the United States also served. Alman said last year Gerald R. Ford was an ordinary officer and didn't know him personally while they served aboard the same ship during the war.
A framed picture of Alman, taken when he was an 18-year-old sailor in the U.S. Navy, hangs in one of the restaurant booths. He likes to watch people enjoy their meals by his photograph then tease them for taking his table.
Alman likes to quote the great 20th century baseball catcher Yogi Berra: "I never forget what I remember."
Alman recalls once attending the same dinner party as Berra and was struck by the size of this New York Yankees star.
"I was bigger than he was and I was surprised," Alman, who stands nearly 5 feet 6 inches tall, told a fellow Navy veteran Sunday while eating a barbecue brisket sandwich.
Alman and retired Navy Cmdr. Lucian Acuff of Fairfax — who flew helicopters during the Cold War — both looked forward Sunday to speaking about their military experience the following day to students at the Rachel Carson Middle School in Herndon.
Alman wants to tell the kids: "Be honest, be patriotic, do your homework, don't steal, love your mom and dad," and added, "don't do drugs or smoke."
He claims he never smoked cigarettes and credits that as the key to his longevity. The Philadelphia native and former restaurant owner says he also eats his vegetables. Alman's goal in life:
"I want to be the oldest living World War II veteran."
As they serve their honored guests in a packed dining room Nov. 11, Mission BBQ staff wear a black uniform that pays respect to fallen heroes with a clear message on the back of their T-shirts printed in all-caps: "Freedom isn't free."
They also wear a special pin called a "Buddy poppy" provided by the Veterans of Foreign Wars.
Online history reports tell how a combat surgeon from Canada noticed a particular flower growing wild in a cemetery in Belgium after burying a fellow soldier in May 1915 — during one of the first battles in which the German army attacked the Allies of the Western Front with a new weapon of war called poison gas.
He describes the scenery through poetry:
"In Flanders fields the poppies blow/ Between the crosses, row on row …"
This poem — "In Flanders Fields" — by Lt. Col. John McCrae, became popular, and the red poppy became a symbol for the remembrance of fallen veterans.
The restaurant enjoyed a special visit from perhaps the only patron at MISSION BBQ alive on the 11th hour of the 11th day of the 11th month of 1918.
A centenarian from Falls Church — Virginia Bergman-Peters — ate lunch with her family Sunday afternoon. Peters was born on a farm near Dawson, Minn., in May 1918 and recalled graduating college, starting a teaching career and learning from her students how she could earn more money serving her country in uniform.
Although the Marines wanted female recruits during World War II, Peters tried to enlist but the Corps had no openings for officers at the time. The Navy scooped up Peters, and the adjutant lieutenant junior grade worked as support staff for training between 1942 and 1946.
"It's the best thing I ever did," Peters said. Following the war, she taught English at W.T. Woodson High School in Fairfax and 4th grade at a school in Falls Church.