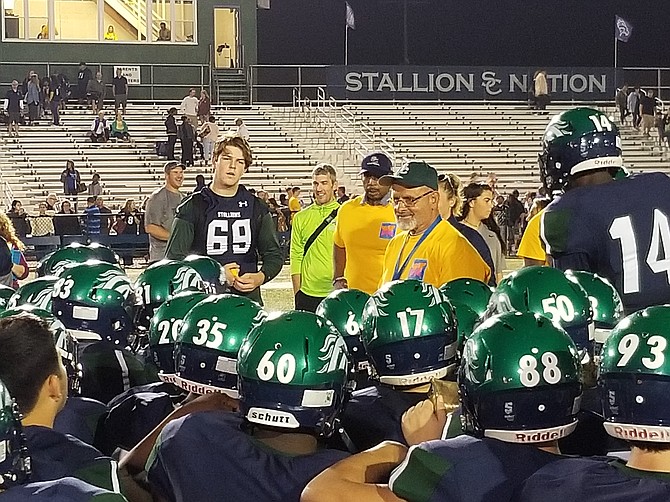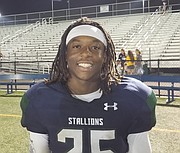 "He's one of those kids that wants to be great, whether it's in football or in life or in other things." —South County head coach Gerry Pannoni on running back Tyler Johnson
With South County and Hayfield locked in a one-score game early in the second quarter, Stallions running back Tyler Johnson embarked on a 22-yard touchdown run that included a strong stiff-arm and a nifty cutback near the right sideline.
The rest, Johnson said, came from a higher power.
"I was just running and I made a move," the South County ball carrier said. "I used my speed and I used my stiff arm. After that, he came for contact and I just avoided contact, and God did the rest and let me through."
Whether powered by years in the weight room or the Man Upstairs, No. 25 tore through the Hayfield defense and helped South County snap a two-game losing skid.
Johnson carried 26 times for 163 yards and a touchdown, caught two passes for 36 yards and another score and the Stallions defeated the Hawks 36-6 on Sept. 21 at South County High School.
Johnson's touchdown run helped give South County a 14-0 advantage with 9:15 remaining in the second quarter. With less than one minute remaining in the opening half, Johnson caught a screen pass from quarterback Matt Dzierski and scored a 17-yard touchdown, giving the Stallions a commanding 29-0 lead.
After opening the season with a 40-7 home win over Langley on Aug. 24, the Stallions lost to a perennial Concorde District power each of the next two weeks, with each game taking two days to finish due to lightning suspensions. South County lost to three-time defending state champion Westfield, 24-12, on the road in Week 2, and fell to Centreville, 26-14, at home in Week 3.
AFTER A BYE WEEK, South County came out against rival Hayfield on Friday and amassed 461 yards of offense, including 334 on the ground.
"It's tough because, when you lose games, no matter who you lose to, you have a little bit of self-doubt," South County head coach Gerry Pannoni said. "Our thing was just to try to come out … and go back to basics. … We think we're a good team. … We think that we're a deep-playoff team, but we'll see."
Johnson was a major contributor to South County's success. Listed at 5 feet 6, 150 pounds, the senior is not only an elusive back, he's a powerful runner, as well.
"I think he's one of the best players in the Northern Region," Pannoni said. "I think he's an under-recruited kid. He's a kid who wants to go to the Ivy League – smart as hell, he's almost a 4.0 (GPA) kid. He's a team captain, a team leader, he does the right thing.
"He's been coming to us since about seventh grade working out in the weight room. He's one of those kids that wants to be great, whether it's in football or in life or in other things."
South County opened the game with a 16-play, 78-yard drive that took 5 minutes off the clock and ended with a 5-yard touchdown run by Xavier Collins.
The Stallions led 14-0 late in the first half when Enrique Rivera-Lozano scooped up an errant Hayfield punt snap at the 2-yard line and took it in for a touchdown, helping give South County a 22-0 lead.
After a quick three-and-out by Hayfield, South County got the ball back on its own 20 with 1:07 on the clock. The Stallions marched 80 yards in 46 seconds and took a 29-0 lead on Johnson's 17-yard receiving touchdown.
Hayfield's lone touchdown came on a 53-yard pass from Charles Soper to Rayjuon Pringle with 6:58 remaining in the third quarter.
South County's final touchdown came on a 32-yard pass from Dzierski to freshman receiver Brock Spalding with 10:33 left in the fourth quarter.
Dzierski completed 9 of 16 passes for 127 yards and two touchdowns and threw two interceptions while leading the Stallions' up-tempo offense. He also carried 14 times for 33 yards.
"Matt did a good job," Pannoni said. "We put a lot of pressure on him to try and speed us up. We wanted to go fast. We felt like the last two games, I'm not sure if we did or not. I felt like we went faster tonight, I still think we can go faster. I think it's an advantage for us because we practice fast as hell and their kids were gassing, I can tell you that."
THE VICTORY improved South County's record to 2-2. The Stallions will travel the next two Fridays, starting with a contest against Madison at 7 p.m. on Sept. 28. South County will open its Patriot District schedule on Oct. 5 against Woodson.
"They definitely have heart," Pannoni said about the Stallions. "They've got the desire to improve. We've got to take each week one at a time. The rest of the schedule is tough as hell, but we'll figure it out."