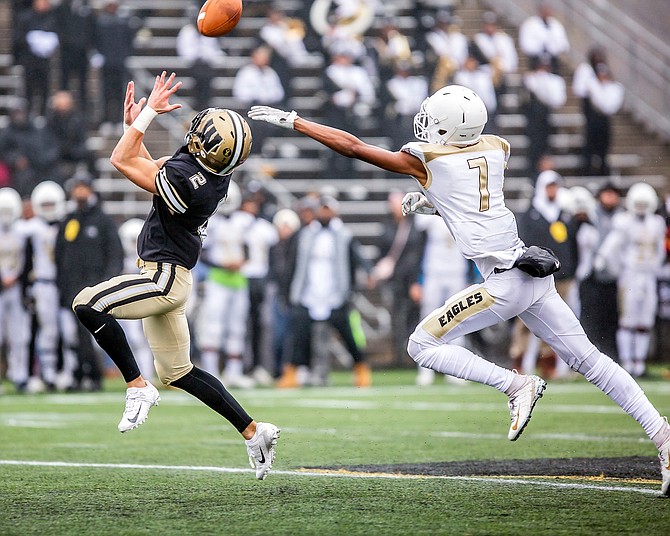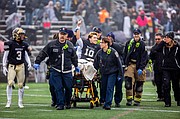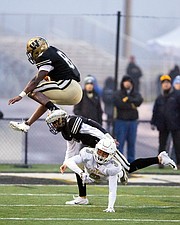 The Westfield Bulldogs (13-0) lost to the Freedom-Woodbridge Eagles (12-1), on Dec. 1 in the Virginia 6A State semifinal game.

The 2 p.m. game was delayed approximately 20 minutes, because of Freedom-Woodbridge's late arrival, which resulted in a penalty before the start of the game given by the officiating crew.
Early in the contest, Westfield QB Noah Kim connected with Taylor Morin on a 78-yard pass. Morin looked back over his right shoulder and pulled the reception to his body as he used his speed to go untouched into the end zone.
In the second quarter, Freedom-Woodbridge got on the board when Omari Hatcher pulled in a reception and the Eagles first score with 9:27 to play before half. On Westfield's next possession Noah Kim was brought down by the defense and was seriously injured on the play with 7:53 to play in the quarter. After a long delay for trainers and medics to attend to Kim, Kim was taken by ambulance to a local hospital. Kim did not return. After a Bulldog punt the Eagles would capitalize just less than two minutes later when Hatcher scored again on a short touchdown reception. The ensuing extra point was blocked by Saadiq Hinton and the score had Freedom leading 13-7. Freedom would add another touchdown with only 8 ticks left in the first half. Freedom was then successful on a 2-point conversion giving them 21-7 advantage at half.
With 8:03 in the third quarter after Freedom scored another touchdown and led 28-7, Taylor Morin struck again with a 75-yard touchdown after taking a direct snap. Westfield was then within two scores, 28-14.
Freedom again responded with another touchdown with 9:59 to play in the game and increased the lead to 35-14. Again, Morin struck for the Bulldogs, this time he took the direct snap and found Bizzet Woodley for a Bulldog 8-yard touchdown reception, again pulling the Bulldogs to within two scores, 35-14 with 7:07 to play in the game. Israel McClain then hit an Eagle receiver who fumbled the ball and Morin would take it to the house for a 62-yard Westfield TD and pull the Bulldogs to within a touchdown 35-28. Eugene Asante then blocked his second punt of the game, which gave a chance to knot things up in the closing minute however Westfield would be stopped on 4th and 1, ending the hopes of the previous three-time state champions.
The Bulldogs accumulated 212 yards for the game including 105 passing and 107 yards rushing. Noah Kim completed both of his passes for 100 yards and 1 TD. Taylor Morin completed 1 of his 5 passes for 8 yards and a TD. Taylor Morin had 1 catch for 78 yards and a TD. Bizzet Woodley had one reception for 8 yards and a TD, and Gavin Kiley had 1 reception for 22 yards. Eugene Asante carried the ball 16 times for 53 yards, Isaiah Daniel carried the ball 5 times for 8 yards. Taylor Morin ran for 73 yards and a TD on five carries and Noah Kim rushed for 10 yards. Westfield also had a strong special teams' performance with Eugene Asante blocking two punts and Saadiq Hinton blocking and extra point. Westfield's win streak was halted at 37 games and stopped a possible fourth consecutive state championship.
Freedom will play Manchester (14-0) for the 6A Championship. Manchester defeated Ocean Lakes (13-1) 42-3.