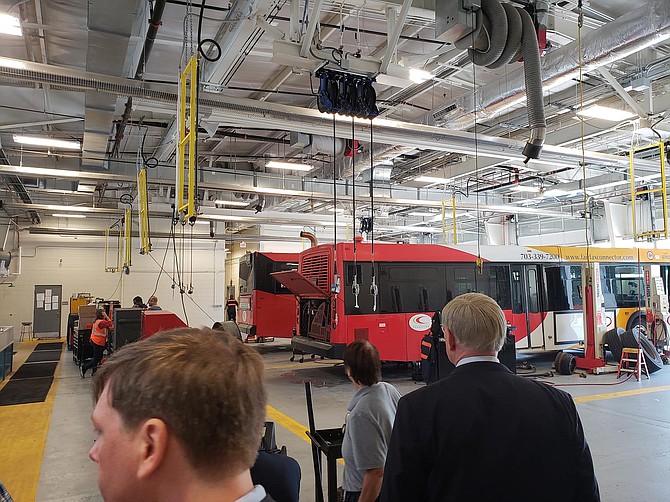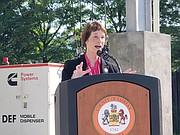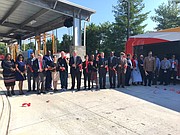 The Ribbon Cutting Ceremony to officially open the newly renovated Fairfax Connector Reston-Herndon Operating Facility in Herndon, located at 268 Spring Street, occurred Wednesday, Sept. 19, 2018. The Northern Virginia Transit Committee State Aid and the voter-approved 2007 bond referendum funded the $14 million renovation project. The facility required updates to the exterior site and interior space, as well as some system upgrades.
With a fleet size of 80 buses and reported capacity of 100 buses, a phased design approach to the renovation allowed operations to continue without interruption.
"Traffic and Transportation…Two things that will keep Herndon moving," said Bill McKenna. "It was an honor to be part of the Fairfax County Connector Reston-Herndon Garage expansion and upgrade. This will be a vital part of how Herndon will move forward with Metro and traffic by helping to move our residents efficiently and reducing our traffic footprint," McKenna added.
Supervisor John Foust (D-Dranesville) posted that the working environment was now safer, more efficient and more comfortable than before. "The improved facility will also help the Connector meet increasing transit needs in the area," Foust posted on Facebook.
Others on hand at the Ribbon Cutting were Del. Kenneth R. "Ken" Plum (D-36), Del. Jennifer Boysko (D-86), Fairfax County Board of Supervisors Chairman Sharon Bulova, Dranesville District Supervisor John Foust, Hunter Mill District Supervisor Cathy Hudgins, and Herndon Councilmembers Richard B, Kaufman and William "Bill" McKenna.
Renovation Highlights as reported by Fairfax County:
An existing open bay was enclosed to create a new drive-through bus wash.
A small addition was constructed for exterior tire storage.
Vehicle lifts and service equipment were upgraded.
An automated parts storage system was created.
The drivers' lounge and administration areas were modernized.
A new covered fueling station was added.
The bus parking lot surface was replaced with new heavy-duty concrete.
A new parking lot was added for staff.
A new restroom was constructed.