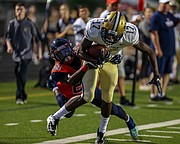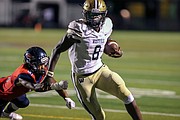 The Westfield Bulldogs traveled to Nokesville for a non-conference game with the Patriot Pioneers on Friday, Sept. 28. The two schools faced each other twice in 2017, the first on Sept. 26 with Westfield pulling out a 46-33 win. Then in the VHSL playoffs, Westfield would again best the Pioneers with a 35-6 victory.
Westfield Senior QB Noah Kim, completed 15-21 for 216 yards and a TD, and rush for two more touchdowns. Kim ran in from 5 yards out with 2:46 to play in the opening quarter to give Westfield an early 7-0 advantage.
In the second quarter, Kim rushed in from 1 yard out to give the Bulldogs a 14-0 advantage, with 6:31 to play in the second quarter. Kim would then connect with Bizzet Woodley who ran in on a 15-yard reception. Woodley finished the game with six catches for 64 yards and a TD. Westfield would take a commanding 21-0 lead going into halftime.
In the third quarter, Westfield's Eugene Asante ran in from 15 yards out and the Bulldogs final score with 9:17 to play in the quarter. Asante carried the ball seven times for 34 yards and a TD.
With the 28-0 win, the Westfield (5-0) win streak dates back 29 games, a school record. Patriot falls to (2-3). Wake Forest commit Taylor Morin caught five passes for 132 yards, and intercepted Patriot QB Chris Sonnenberg. Isaiah Daniel rushed for 53 yards on 13 carries, and Sean Goodman rushed for 27 yards on seven carries. Gavin Kiley also had two receptions for 11 yards.
Westfield will play at Madison HS (4-1) on Friday. Patriot HS will play at Stonewall Jackson HS.