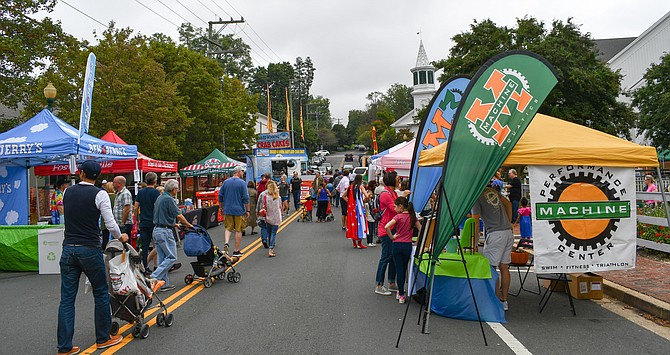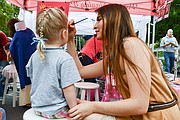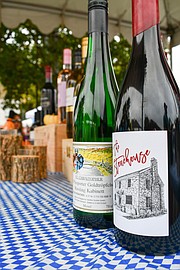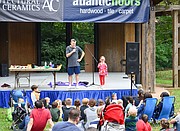 John Keats states in his poem titled "To Autumn" that Fall is the "Season of mists and mellow fruitfulness." To Patricia Kratzer, a resident of Vienna for 40 years, Keats reminds her of the Fall season and how "Oktoberfest signifies the incoming harvest, gatherings, and the smell of Fall. It reminds me of Harvest Festivals that took place in the churches of England where I grew up."

Families, children, young adults and new and existing residents of Vienna converged on Church Street to enjoy the town's annual Oktoberfest. "This is our eleventh year doing Oktoberfest," stated Carey Sienicki, Town Councilmember. "It keeps getting bigger and bigger every year. Due to the lack of parking, something new for us this year was the shuttle bus coming from Madison High School and the Vienna Metro. The event keeps expanding and it's something for everybody to enjoy."

Vendors lined a portion of Church Street selling homemade goods, ranging from succulent planters, soaps and bath salts, handbags, towels, and German inspired nuts. Children ran around on the Town green playing corn hole and enjoying kid friendly performances on the town stage. Across from the Freeman Store and Museum was German inspired food and craft beer from local brewers, especially Caboose Brewing Co. Victor Mendes, who has owned the Vienna Vintner for 20 years, was selling wine from his collection.
"Before, Oktoberfest was only selling beer and then once they started allowing wine we've been here for the past 5 years and it's awesome," said Mendes. "It's a good way for us to get face time with the community, especially since we moved into our new location." Mendes owns the Vienna Vintner "Stone House," located at 320 Maple Avenue East. Residents gathered around tall bar tables and enjoyed the different types of wine and beer, while there was a dog every few feet lapping up spilled beer on the pavement.
Rachel Ritchie, a born and bred Vienna resident, was out enjoying the event along with her dog, Annie. "Growing up in Vienna, I always went to Oktoberfest with my family. Now as an adult, I am still having tons of fun but I get to enjoy the Biergarten! It seems every year this event gets bigger and more activities and food are added. This year I was also happy to enjoy Oktoberfest with my dog Annie, because she loves being as social as I am."

As the afternoon rolled on, bands played music in the Biergarten and on Church Street while people enjoyed the actives, food and quality time spent with each other as the incoming scents of Fall begin to seep into Vienna.