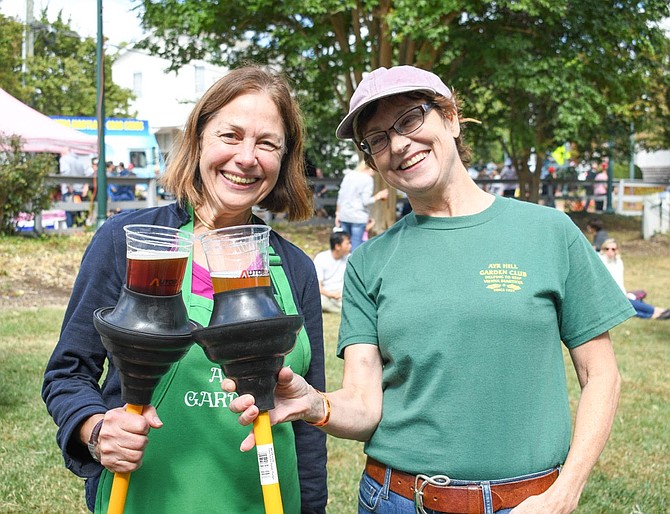 Brats, beer, and a beautiful community: the recipe to having a great Oktoberfest. Dogs, children, families, food and crisp fall air were in abundance at Vienna's Oktoberfest on Saturday, Oct. 5.

"This is the 12th year for Oktoberfest," said Carey Sienicki, Councilwoman of Vienna. "The event is sponsored by Vienna Business Association and the Town of Vienna." Vendors selling homemade crafts, services, clothing, and food dotted historic Church Street, beginning at Mill Street NE and ending at Center Street N. On the Town Green there were children's activities such as a bouncy house, corn hole, face painting, mini basketball, slime making, and a wack-a-mole station. Food trucks lined up outside of Vienna Presbyterian Church selling all types of cuisines. One food truck in particular was a BBQ truck from Charlotte, N.C. whose owners had driven up to Vienna in the early hours of the morning and were heading home in the evening.
Pete and Rita Walters of Springfield have been coming to Vienna's Oktoberfest for the past ten years. "We never miss any festivals," said Rita. "I know a handful of the bands that play here during the festival. I used to sub at the School of Rock and I love to watch the kids that I taught play here," said Pete. The music flowed from all three stages set up for Oktoberfest. The Center Street N stage had acoustic hits, the Town Green pavilion featured homegrown acts such as Adrenaline Dance Studio, and the center stage by the caboose featured many bands, one of the more popular ones being a disco band that played popular 70s hits that got people on their feet dancing. As people left Vienna with painted faces, full stomachs, homemade goods, and smiles on their faces, the sun set on yet another successful Vienna Oktoberfest.