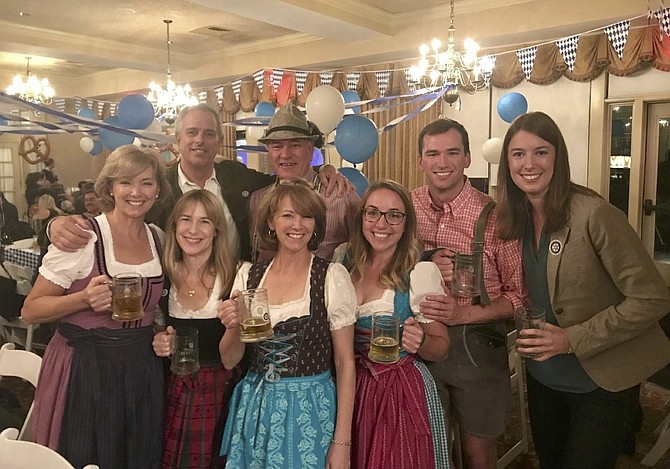 The Rotary Club of Great Falls will host their third annual Oktoberfest fundraiser event at the River Bend Golf & Country Club on Oct. 20, 2018. From 7 p.m.-midnight, the tastes and sounds of Bavaria will come alive with traditional music, dancing, yodeling, and German beer, wine, and food.
Each year, millions of people worldwide celebrate this tradition started in 1810 in honor of the marriage between Bavarian Crown Prince Ludwig and Princess Therese von Sachsen-Hildburghausen. A group from Great Falls will attend this year's Oktoberfest in Munich as a sort of "advance planning group" for the local celebration. The teen members of Interact will decorate River Bend with blue and white "Bavarian" decorations to help make the event look as authentic as possible. Last year's event was attended by more than 400 residents and raised between $20,000-25,000. This year is sure to be as memorable as years past, so get your tickets now and break out the lederhosen, say organizers.

Torsten Kracht, a Rotary Club member for more than 5 years and a Great Falls resident since 2006, got involved to learn about the community and the history of the area.

"Rotary does a lot of great [things around the world and it's a rewarding] organization to be a part of," Mr. Kracht shared. "The Oktoberfest event is just a fun way [for everyone to get together] and raise funds."

Tickets are $110 per person ($125 after Oct. 1), and corporate and local business sponsorship opportunities are still available. Go to https://greatfallsoktoberfest.com for more information.
Profits from the event support the many local and international service activities of the Rotary Club and its teen counterpart, the Interact Club. A non-denominational service organization, the Rotary Club is devoted to causes such as providing support for diabetes research, local road cleanups, support of local charity organizations, assistance for families of cancer patients, humanitarian relief efforts around the world, and more.

Jeffrey Thinnes, a resident since 1996, founded the local Rotary Club in June 2011 because of his past experiences with national and international clubs. "[As a student in Indiana,] I received a Rotary Foundation Ambassadorial Scholarship to study in Germany. It changed my life. I had such a great experience there and with the Rotary in McLean that I wanted to [bring that to Great Falls]." Visit http://www.rotarygreatfallsva.org/ to learn more about this impressive organization.