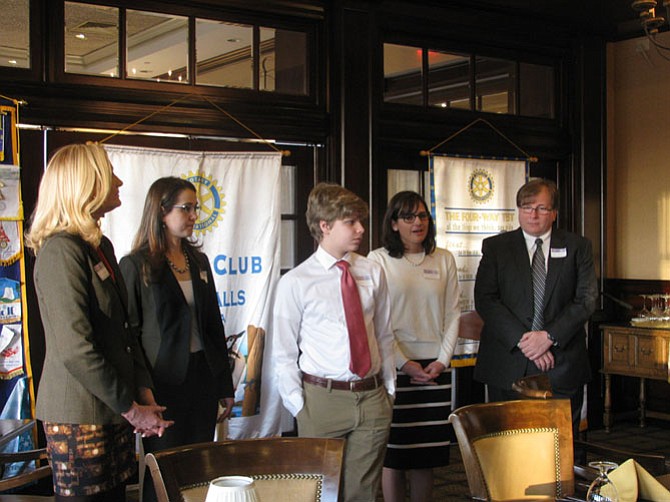 Michael Sevila shares the same field as Chicago Bears quarterback Jay Cutler. Like Cutler, who also has Type I diabetes, Michael is the one in charge.
"Almost overnight, I had been put in charge of things my body was supposed to do," he wrote, in the introduction to a book based on his personal experience with Type I diabetes.
Michael remembers being in the hospital Labor Day weekend when he was 12. "I said to my Dad, "We have to fix this."
"Dads are really good at fixing things, so I thought we could figure this out," according to Michael, now a freshman at Langley High School. "Only this time, there was no fix."
Doctors told Michael and his father, Butch Sevila, that he had Type I diabetes, often called juvenile diabetes.
"We knew nothing about Type I diabetes, but the doctors recognized it," Butch Sevila said. "As parents were were completely taken aback."
SINCE THE DIAGNOSIS, Sevila, his son and family learned that there's nothing Michael can't do. He does need to remain diligent and focused on ensuring his blood sugars are at the right level.
"I have become really good at the math required to calculate how much insulin to do depending on the number of carbohydrates I plan to eat," he wrote, in the beginning of the book. "I tend to eat better than my friends."
"It's very important to manage, because it has negative consequences if you don't keep it in check," said Sevila.
Butch Sevila heard children's book author Cindy Chambers speak at the Rotary Club of Great Falls about her book series (Tell-Me-Town) on educating families about medical conditions.
Sevila contacted Chambers and asked if she would consider writing a book about Type I diabetes, according to Jeff Thinnes, chairman of the Rotary Club of Great Falls. The club presented Chambers and doctors with a check Thursday, March 12.
"I don't want any other kids to go through what we went through, not knowing what's going on," Sevila said.
Chambers wrote the book, "Beamer Learns About Type I Diabetes," as part of her Beamer Book Series. Michael is the main character, and his football coach, father, friends and teammates all make appearances.
His doctor, Dr. Otilia Neacsu, nicknamed Dr. Nachos, says the book "makes a huge impact on our families."
"It's a privilege to watch him grow," the Inova Fairfax doctor told the Great Falls Rotary on Thursday, March 12.
"The book will end up saving lives because families will know what they see when they see Type I diabetes," Chambers told the Rotary at their weekly breakfast at River Bend Golf and Country Club.
Michael's doctors attended the breakfast along with 30 Rotary members. Michael hopes it will help other children going through the same thing he did, especially at the hospital.
Sevila said four students in Michael's class at Langley have juvenile diabetes.
"It does seem hard at first, but I've managed," Michael said.
"It does have to be controlled," said his father.
Michael is pictured in the book wearing the same number as Bryce Harper, his favorite National on his favorite team.
"It's pretty cool," he said.
MICHAEL PLAYS junior varsity baseball at Langley, does a 100-mile fundraising bike ride with his father to raise money for juvenile diabetes research, helps with the Great Falls Car Show in October, another fundraiser, and surfs, "wherever I can," including Coco Beach, Fla.
Save the Date
Oct. 11, 2015 in Great Falls, Cars for the Cure, 3rd Annual Drive to End Diabetes, Exotic and Classic Cars, Trucks and Motorcycles Show. http://www.carsforthecureusa.com/
"While having Type I Diabetes changes my daily routine, it doesn't change me," Michael wrote.
He says he knows how different sports affect him and his insulin level.
"Michael, thank you so much for sharing your story," his doctors told him in front of the Great Falls Rotary last Thursday.
"Although there is no cure yet, I hope to one day say that I contributed to one," Michael said.