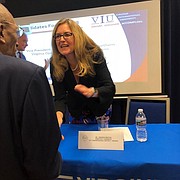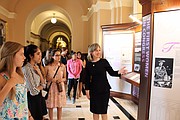 This fall, voters wield all the power.
On Nov. 6, they will decide who controls Congress for the next two years of Donald Trump's presidency, a decision that could significantly reshape the current political landscape, impacting both Republican and Democratic agendas for years to come.
In Virginia, the 10th Congressional District race between Republican Barbara Comstock, the incumbent, and her Democratic challenger, state senator Jennifer Wexton, is one of the most closely-watched, competitive races in the nation. Democrats are eyeing the 10th as a strong pick-up opportunity, trying to flip a seat that Republicans have held for more than half a century.
The Connection reviewed dozens of "frequently-asked" questions culled from various national, state and local forums, focus groups and surveys. Out of nearly 100 questions, we narrowed it down to the top 12. Both candidates agreed to answer our questions in writing. Our only request to the candidates: keep answers to a 750-word total. Here are their complete answers, unedited.
Q: Do you think the Second Amendment should be repealed?
Comstock: No.

Wexton: No. But we do need to pass common sense gun violence prevention measures.
Q: If not, do you think there should be any new gun restrictions to deal with what feels like an epidemic of mass shootings?
Comstock: We passed three important pieces of legislation for prevention of gun violence in the past year: 1) The Stop School Violence Act, which was the number one priority of school violence prevention advocates. It provides billions in increased funds for school resource officers, school safety programs, mental health treatment, crisis intervention and hardening of school security. 2) We passed bipartisan legislation to improve and provide more funding for the national background check system – the most significant improvement in the system in a decade. 3) I passed my "Project Safe Neighborhoods" legislation which provides funding for tackling gun crime, as well as gang crime and drugs. In addition, I support banning bumpstock and I am pleased that process is going forward at the Justice Department. Finally, I support "red flag laws" that allow law enforcement and family members to petition a court for an Extreme Risk Protection Order to get weapons out of the hands of those who are a danger to themselves or others.
Wexton: Meaningful gun reforms like expanded background checks and legislation to keep weapons of war out of the hands of dangerous people enjoy wide popular support and we should pass them.
Q: What would you do if Trump fired special counsel Robert Mueller?
Comstock: I am confident that the President will not fire Bob Mueller. I support the Russia investigation being completed quickly and having as much information as possible disclosed to the public.
Wexton: What is most important right now is that the Special Counsel be protected from outside influence and insulated from attacks by Donald Trump. We need a Congress that is willing to stand up to Trump and be a check on the Administration, not just a rubber stamp.
Q: What's the best indication of economic health – the stock market, unemployment rate, income?
Comstock: We are experiencing an incredibly healthy economy as a result of lowering our taxes and cutting regulations – and the indicators are things such as a 4.2 percent growth rate, the highest family income ever, high consumer confidence, high small business and manufacturing optimism, growing wages, a strong job market, and low unemployment rates for men and women in all demographic groups. I am the only candidate in this race to have authored and passed tax cuts, and to have been endorsed by business groups such as the U.S. Chamber, the National Federation of Independent Businesses, the National Association of Women Business Owners and other industries because jobs and the economy have always been a top priority for me. A healthy economy should lead the world in innovation, research and development and provide expanded opportunities for men and women from all walks of life. Economic health also would be enhanced by having more women in senior roles because studies have found that businesses and companies with more senior women actually are more financially strong and sound.
Wexton: Labor participation, wage growth, and unemployment are all key indicators because they show whether the middle class is experiencing the kind of growth already enjoyed by the wealthy.
Q: Should there be a citizenship question on the census?
Comstock: I am fine with or without a question, but what is disappointing with the questions on this survey is that there are no questions on the importance of our national security or homeland security and the importance of stopping defense sequestration (which we did); and not a single question about our veterans who deserve the added services and support we have provided over the past 2 years.
Wexton: No. The Constitution says to count all people, and this measure is designed to prevent that from taking place.
Q: Is it fair to trade a border wall with Mexico for protected status for DACA recipients?
Comstock: Legislation that includes both border security and a solution for DACA recipients has been supported at various times by Democrats, Republicans and the President, so this provides the outlines for a compromise. I have voted for such a compromise so that we can have a solution instead of a stalemate and have a system that is fairer and simpler and rewards those who play by the rules. I also support expanding H1B Visas and agriculture visas and other reforms that support growing our economy.
Wexton: We should not have to trade anything to get protections for Dreamers. It's the right thing to do, it's overwhelmingly popular with the American people, and it should not be subject to a ransom.
Q: Should felons who served their sentence be able to vote?
Comstock: This should be handled on a case by case basis. I don't support violent felons automatically having their rights restored. I have supported criminal justice reform that addresses racial disparities in the system. This Congress I authored and passed my "Project Safe Neighborhoods" legislation which supports community policing and assistance to address gun crime, gang crime, and drug crime. I have been endorsed by the Police Benevolent Association because I am committed to public safety and I have worked extensively with the law enforcement community since my time as a senior Justice Department official.
Wexton: I support restoration of voting rights for felons who have completed the terms of their sentences.
Q: Name three Democrats/Republicans (people in the opposing party) with whom you are friendly – or actual friends.
Comstock: Rep. Debbie Dingell, Rep. Lois Frankel, and Donna Brazile.
Wexton: Emmett Hanger, Jill Vogel, Randy Minchew.
Q: How would you address the #MeToo movement as a member of Congress?
Comstock: I have been a leader battling sexual harassment in Congress passing bipartisan landmark reform legislation to provide victims support and more funding to the EEOC office that handles complaints. I also passed legislation requiring anti-harassment education and training for all Members of Congress and their staff. The legislation also provides due process for both the victim and the accused. The hearings we have held have also highlighted how sexual harassment can impact the pay gap by driving women out of their chosen professions and we will aggressively address this problem to keep women in their chosen professions.
Wexton: Electing more women is an important start. We need our leaders to send a clear message that those who commit sexual offenses will be held accountable, no matter who they are. It has taken far too long for Congress to pass even basic measures to reform its own processes in this area.
Q: Do you believe climate change is real and man-made? If yes, how should Congress address it?
Comstock: Yes, and I am a member of the Climate Change Caucus but my focus is not on increasing regulations or adding taxes, but instead using innovation and technology to provide solutions for cleaner, more efficient, and more affordable energy.

Wexton: Yes. Congress should renew America's commitment to the Paris Accords, and take steps that address climate change while helping the economy convert to cleaner energy sources with minimal disruption.
Q: Would you vote to overturn a presidential veto to keep the government running?
Comstock: I am the only Member of Congress in the Washington Metropolitan region – Democrat or Republican - who has NEVER voted to shut down the government. I have worked to keep the government open and functioning and fought to get the federal pay raise restored. I have worked closely with NARFE (National Active and Retired Federal Employees) and have earned the support of their PAC because of my strong support for our federal employees.
Wexton: Yes.
Q: Should President Trump tweet more/less/same?
Comstock: My apologies, but I think this is a ridiculous question when there hasn't been a single question about the importance of getting better cures and treatments for chronic diseases such as Alzheimer's, cancer, and diabetes – something I am passionate about and have worked to provide record funding for at this critical time when we have the opportunity for breakthroughs in medical research. We have also provided a record $4 billion in funding and support for prevention and treatment of addiction to opioids and heroin – something the President has declared a national health emergency – something that he may have tweeted about too.
Wexton: Less