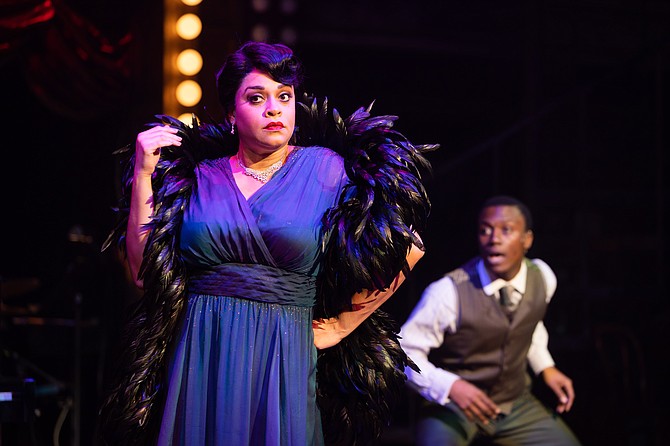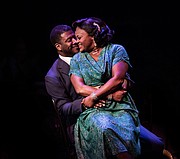 Signature Theatre in Arlington is presenting "Ain't Misbehavin' — The Fats Waller Musical Show" from now through March 10, 2019. Step into Harlem for a swinging, dancing celebration of big band and the songs of Thomas "Fats" Waller. This Tony Award-winning musical tribute features such tunes as "The Joint is Jumpin'," "Honeysuckle Rose," and "Handful of Keys."
The show opened in the Manhattan Theatre Club's East 73rd Street cabaret in 1978. The book was by Murray Horwitz and Richard Maltby Jr. with music by various composers and lyricists as arranged and orchestrated by Luther Henderson. The cast of Signature favorites include Nova Y. Payton ("Jelly's Last Jam"), Kevin McAllister ("Titanic") and Iyona Blake ("Titanic") who strut the stage while "Jelly's Last Jam's" Mark G. Meadows tickles the ivories.
Korinn Walfall's character was originally performed by Charlaine Woodard. "However, in our production we use our own names just like the original cast used theirs. It gives us as actors the chance to make this role personal to us and not a carbon copy of what has been traditionally set before with this show. It's my character's first night in the club, and as the show progresses you see her journey of becoming a seasoned performer like everyone around her," she said.
She added: "Some challenges that came with working on this show include learning the lyrics and music. I've never done this show before, so learning it fresh was an experience. The vocal score is completely different than the conductor's score and sometimes the script too. It's surprising that that hasn't been rectified officially."
She continued: "The music in this show is some of the most difficult and intricate harmonies that I've ever learned. The rewards from this show include being surrounded by talented performers who I can learn from every day. Also, being able to confidently perform these songs every night is such a joy."
For audience takeaways, she said: "I hope audiences take away the joy and magic that the Harlem Renaissance imprinted on American culture."
Solomon Parker III's character is the showman of the group. "His physical energy is electric and he has a connection with the audience that is best displayed in his physical movement. He's inspired by artists like Cab Calloway, Duke Ellington, even Sammy Davis Jr. and Ben Vereen," he said.
He added: "The biggest personal challenge with putting on the show was rising to the level of excellence expected of this cast. We have some of the most identifiable talents in the D.C. area in the show, and the music is so iconic."
He continued: "The task of finding that jazz sound and musical freedom associated with the Harlem Renaissance was also daunting. But our music director and cast member, Mark G. Meadows, lives and breathes this stuff. That gave birth to many of their rewards of the show. It pushed us as artists to adapt to a new sound, personify an era of color and celebration using our bodies, and really cherish the responsibility of performing these powerhouse numbers back to back."
As far as audience takeaways, he said: "I hope audiences leave the show entertained and with a greater sense of joy, love, fun, a bit of mischief than they had before they came and saw the show."
Signature Theatre is presenting "Ain't Misbehavin' — The Fats Waller Musical Show" from now through March 10. Tickets are $75 to $102. Show times are Tuesdays through Saturdays at 7:30 p.m. and 8 p.m.; and Saturdays and Sundays at 2 p.m. Specialty Nights include Discussion Night on Feb. 12; Pride Night on Feb. 8; and Open Captioning on Feb. 10 at 2 p.m. The theater is located at 4200 Campbell Ave., Arlington. Visit www.sigtheatre.org.