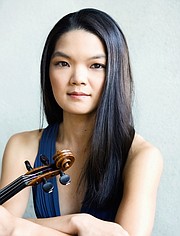 September brings the opening of the new Fairfax Symphony Orchestra (FSO) season. The FSO launches its new season with a concert evening with music of the "Downton Abbey Era."
"We're delighted and privileged to continue bringing great music to our community," said Christopher Zimmerman, Fairfax Symphony Orchestra Conductor and Music Director. "We're incredibly fortunate and grateful to perform for an audience that seems to love our musical concerts as much as we do."
FSO's "Downton Abbey Era" concert includes music from composer John Lunn and his "Downton Abbey Suite." Lunn's musical creations have been an integral part of the popular PBS television series; soon to be a major motion picture.
The FSO concert will also include Vaughan Williams' "Lark Ascending," Elgar's "Enigma Variations" (heard in the finale scene of the award-winning movie "Dunkirk"), as well as Elgar's "Pomp and Circumstance March No. 1" and Ravel's "Tzigane."
Since making her major orchestra debut at age 9, violinist Janet Sung has earned an international reputation as a virtuoso soloist. "I am so looking forward to joining the Fairfax Symphony and conductor Chris Zimmerman for their season-opener," said Sung.

"I'll be performing Vaughan Williams' 'The Lark Ascending' and Ravel's 'Tzigane.' They are both beloved pieces," noted Sung. "They allow a performer to show a vast range of expressions."

Sung described "The Lark Ascending" as "beautifully lyrical and soaring" while Ravel's "Tzigane" is a "virtuosic tour de force…that culminates in the wild rush to the end."
Beyond entertainment, "the Arts play a vital role in driving economic growth, and in meeting the artistic and educational needs this growth demands," said Jim McKeever, Chair, FSO Board of Directors. After more than six decades, the FSO continues to reflect Fairfax County's; and the broader region's vibrant future as one of the best places in the world to live, learn, work and play."
McKeever noted that the FSO "serves thousands of residents, employees, and visitors of all ages." Of interest, the FSO is a combination of young, new artists performing together with more veteran musicians. About one-third are active duty, retired and former military service members.
"Live orchestral music provides us with pure entertainment, as well as allowing us to revel in human artistic achievement. It is also an inspiration for creativity in our lives, and a universal bond that can break down social barriers and unite us around a common beauty and truth," added Zimmerman.
Where and When
Fairfax Symphony Orchestra presents "Music of the Downton Abbey Era" at George Mason University Center for the Arts Concert Hall, 4373 Mason Pond Drive, Fairfax. Performance: Saturday, Sept. 21, 2019 at 8p.m.. Tickets: $65, $50, $43, $39, with $15 student tickets Call 703-993-2787 or visit www.FairfaxSymphony.org.

Note: Hear the stories behind the music with music director Christopher Zimmerman and special guests before the concert at 7 p.m.