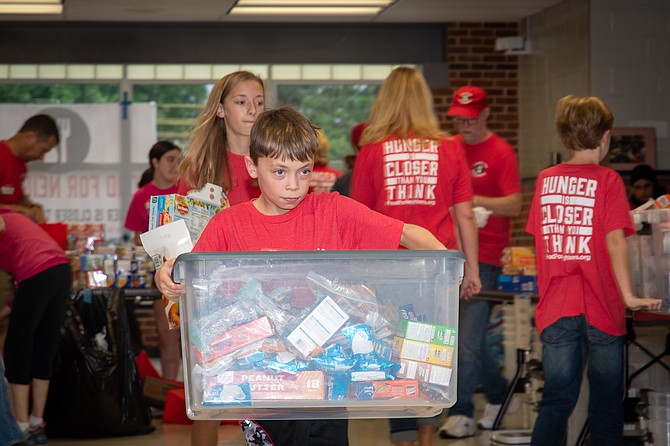 The generosity of the community is continuing to make a difference in the lives of more than 800 teens every week. At the Food For Neighbors 2018-2019 school year kickoff, held on Sept. 8 at Herndon and Irving Middle Schools, 32 drivers collected a record amount of food — more than 6,500 pounds — from more than 600 households. Then more than 80 volunteers sorted it into more than 250 bins and distributed the bins to 12 schools, where a total of 800 students are being fed weekly. This food is offering students stability, and it is helping them to be able to focus on learning at school.
An all-volunteer charity, Food For Neighbors has rapidly grown from serving more than 300 students at Herndon Middle School and Herndon, Potomac Falls, Park View, and Bryant Alternative High Schools, to serving more than 800 students weekly. The program now supports additional schools including Irving, Key, and Whitman Middle Schools as well as West Springfield, Lee, and Mountain View Alternative high schools. The program also provides supplemental food to Langston Hughes Middle School and the South Lakes High School food pantry.
Food For Neighbors thanks all of its sorters, drivers, and food contributors, who leave donations on their doorsteps in the well-known "Red Bags" for collection just a few times per year. To become a "Red Bag" volunteer, visit https://www.foodforneighbors.org/red-bag-program/.