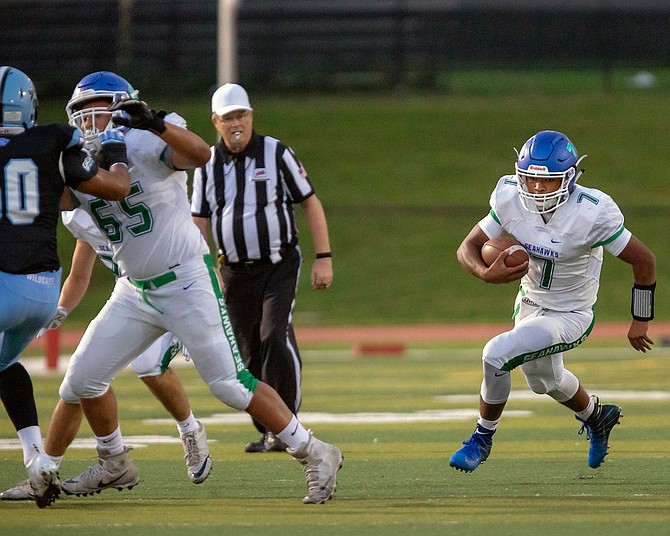 The Centreville Wildcats defeated the South Lakes Seahawks on Friday, Sept. 21 in Clifton.
In the 1st quarter Jordan Wright would score from 5 yards out with 2:24 to play, giving Centreville a 7-0 lead.
In the 2nd quarter Griffin Greer would kick a 30-yard field goal to give Centreville a 10-0 advantage. With :54 remaining in the quarter, Centreville would once again get in the endzone on a 79-yard punt return. 27 seconds later after a South Lakes turnover, Centreville added 7 more points when Jordan Wright scored from 23 yards out.
In the 3rd quarter trailing 24-0, South Lakes was able to get on the board with 5:43 to play in the quarter. Following the TD, South Lakes Wilson Seneca was able to convert a 2-point conversion pulling the Seahawks to within 16, 24-8.
However, South Lakes would be unable to put any more points on the board while Centreville would add 21 more before games end. Jordan Wright would score 6 of those on a 61-yard TD reception with 4:49 to play in the 3rd quarter.
Centreville would add two more scores in the 4th quarter. First with 9:56 and then an interception for 53 yards with 8:16 to play by Lamar Horner would conclude scoring and move Centreville to (5-0) and drop South Lakes to (3-1). South Lakes will play at Langley (1-4) on Friday while Centreville will play at West Potomac (2-2). With the 45-8 victory this is the third time this year that Centreville has scored more than 40 points.