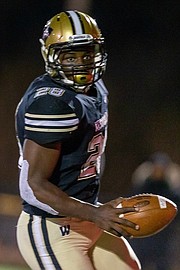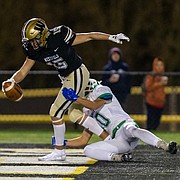 The Westfield Bulldogs and the South Lakes Seahawks met in a 2nd round Regional playoff game on Nov. 22 with the winner advancing to play the winner of the Yorktown v. Madison game in the Regional Final on Saturday, Nov. 30.
Westfield would score first when Avery Howard would take a Noah Kim pass 63 yards for a score. Deshawn Paige would add the PAT and Westfield was up 7-0 with just 10:57. Alex Richards would add a the first of his 4 touchdowns on a 12-yard TD reception with 5:48 to play in the opening quarter. Paiges' PAT would increase the Bulldog lead to 14.
Mikal Legall would run in from 13 yards out to give the Bulldogs a commanding 21-0 lead with 3:55 to play in the 2nd quarter. Again, Paige was successful on the PAT.

Alex Richards took a Noah Kim pass 46 yards for his 2nd touchdown of the game , Paige was successful on the PAT and Westfield now led 28-0 with 4:43 in the 3rd quarter.
Richards would then score his 3rd touchdown on a 26-yard reception with 8:43 to play in the 4th quarter, Westfield now up 35-0. Paige was again successful on his PAT. Later in the quarter Richards would rush in on a 53-yard touchdown with 5:55 to play in the game , Paige would add the PAT and Westfield (12-0)would close the game out with a 42-0 victory, while South Lakes ends their season at (7-5).
Westfield will host the Yorktown Patriots (11-1), winners over Madison 25-10. The regional Final will be played on Saturday, Nov. 30, at 12 noon in Chantilly.
Westfield's Noah Kim threw for 4 touchdowns while rushing for 30 yards on 5 carries. Alex Richards had 3 touchdown receptions on 4 catches, and another TD on a 53 yard run. Mikal Legall carried the ball 19 times for 76 yards and a touchdown.