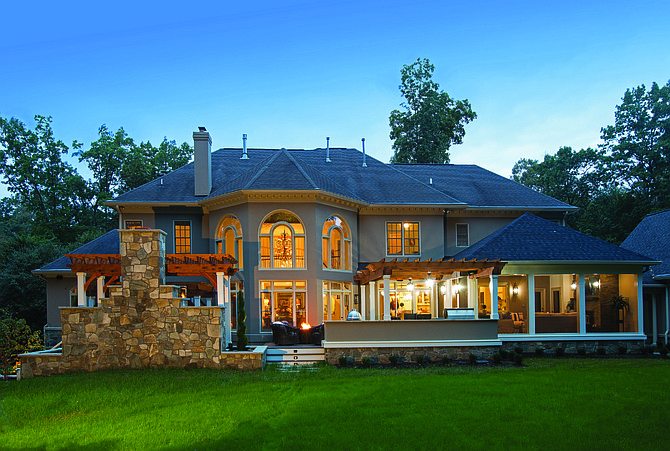 An outdoor living addition to a Chateau-style residence in Oakton has won a "Contractor of the Year" grand award for Sun Design Remodeling Specialists.
The comprehensive design – which combines a screened porch, an outdoor kitchen and dining area, a hot tub and a stone fireplace in a cleverly integrated, multi-level layout – completes the rear elevation of the 9,500 square foot custom home the owners had built in 2001.
The remodel to the home of Larry and Lisa Rice was named best "Residential Design/Outdoor Living Solution for $60,000 and over" by the National Association of the Remodeling Industry (NARI) metro D.C. chapter.
"We wanted an indoor/outdoor gathering place that would bring the whole family together," says Lisa, 56, a retired mother of teenage twins. "The rear of the house was originally conceived as a walk-out, but I realized later that I didn't want high decks. Once I saw the design problem more clearly, I was simply looking for a better set of options – albeit, ones I couldn't fully envision."
An earlier rear elevation proposal by a local design/builder had not been built. Ditto plans for a pool. But Rice credits Craig Durosko, chairman and founder of Sun Design, with re-awakening her enthusiasm for the project by identifying and prioritizing its primary components.
"Craig got our vision" Lisa says. "It was his attention to our goals that revived my interest in moving forward."
In the end, the plan appreciably responds to the Rice family's passion for indoor-outdoor living.
A 437-square-foot screened porch linked to the kitchen via a folding glass window provides a cozy, insect-free gathering spot. An eight-foot counter abutting the "pass-thru" inside the porch facilitates service and dining. Equipped with a gas fireplace clad in stone and a flat screen TV, the porch can be fully used as an entertainment mecca nine months of the year;
A formal dining area situated under a cedar pergola incorporates retractable awnings that provide shade as needed;
The 21-by-21-foot outdoor kitchen includes a built-in Wolf gas grill, a beverage center with refrigerator, an ice maker, a sink, and a stainless oval grill ideal for baking, roasting and smoking;
Three steps down, the open air deck (22-by-28 feet) features a wood-burning hearth and a hot tub set off by planters and gas torches – an inviting spot to deeply relax, even in cooler weather.
A ground-level patio (16-by-19 feet) just outside the fully-appointed lower level family room offers a fire pit, and a quiet perch for stargazing.
"I always thought of the lower patio as a place where the kids could get away from the adults if they wanted," Lisa says. "On the other hand, Larry and I like it too."
Architecturally, one of the biggest challenges was developing an appropriate roof line reconciliation.
"A chateau-style residence has a very distinctive conical roof," Durosko explains. "Any addition that doesn't take this into account runs the risk of muddling the style — diluting the very elements that make the home unique."
Taking this design principle a step further, Durosko and team decided to set-off the porch interior by introducing a pyramidal-shaped vaulted ceiling finished in beadboard. LED accent lighting at the pyramid's base adds depth and color intensity to the ceiling which also houses a rotating fan. Meanwhile, screened barn-style doors on rollers combined with wood-grained porcelain tiling add warmth, and a nostalgic reference to northern Virginia's agrarian past.
Rice, who plans to host a high school graduation party for the twins this May, says the plan can comfortably accommodate an outdoor dinner for twenty or more. Then the summer begins in earnest.
"Seasonally, the timing is just right," Lisa says, "and we're really pleased with what our home now has to offer."
Sun Design Remodeling frequently sponsors design and remodeling seminars as well as tours of recently remodeled homes. Headquartered in Burke, VA, Sun Design also maintains an office in McLean, VA. For More Information Visit: www.Sun Design.com or call 703-425-5588.
John Byrd has been writing about home improvement for 30 years. He can be reached @ 703-715-8006, www.HomeFrontsNews.com or byrdmatx@gmail.com.