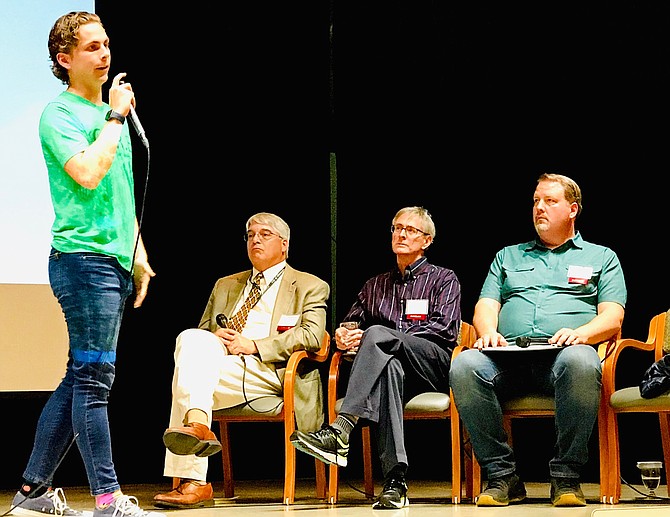 Despite some progress towards ecological "sustainability," as envisioned in the city's 2008 Eco-City Charter and related Environmental Action Plan (EAP), many goals remain unmet.
A panel of four professionals from environmental organizations discussed the EAP's shortcomings on Monday, April 22. Agenda: Alexandria, a nonpartisan nonprofit, hosted the event.
The 2009 EAP aimed to address climate change concerns and reduce city per capita energy consumption, among other things, by 2030. Bill Skrabak, deputy director at Alexandria's Transportation and Environmental Services, highlighted the city's achievements: per capita greenhouse gas emissions decreased by 16 percent; more than 95 percent of privately developed square footage is LEED Silver certified; and the city has a developed stormwater management system comprising a regional pond draining over 67 acres.
However, missed deadlines impede further progress. City Council approved the EAP's renewal after five years. That deadline has come and gone, and annual progress reports haven't been released since 2016.
"It's great to have the action plan, but how things get funded is through the budget process. We're all competing for resources," said Skrabak.
"I think Alexandria should get an A for effort. … It has done a lot of great things. I think, though, that we have not done a good job of preserving the biodiversity of Alexandria," said Andrew Macdonald, chairman of the Environmental Council of Alexandria.
Macdonald, a self-described "tough grader," critiqued the city's efforts — for example, with respect to increased density and commercial development around the new Potomac Yard Metro Station.
"I don't think anyone is against building a Metro [station] in Potomac Yard. The question: is it too near wetlands and should it be built somewhere else?" he said.
Water quality is another point of weakness, said panelist Dean Naujoks of the nonprofit Potomac Riverkeeper Network.
"The city did dredge [a portion of the Potomac contaminated by byproducts from a gasworks]. They thought they were solving the problem of discharge, but they didn't fix it," said Naujoks.
The Potomac Riverkeeper Network has been pushing the city to address the contamination.
"We need to up our community education and outreach in our plan. The government's a small part of the problem; the community is going to have to pitch in to help," said Skrabak.
T.C. Williams senior Kenneth Warren co-founded an environmental organization — Community United for Renewable Energy (CURE) — to educate youth about sustainability and invest in greener schools. CURE partnered with the school system and is working on a new educational program for elementary school students.
"You have the opportunity to make a choice and we can act now," Warren told Monday's audience.
The updated EAP is under development and will be distributed at the city's Alexandria Earth Day celebration. The event will take place Saturday, April 27 from 10 a.m. to 2 p.m. at Lenny Harris Memorial Fields at Braddock Park, 1005 Mount Vernon Ave.
For more information, visit www.alexandriava.gov/Eco-City and www.agendaalexandria.com.