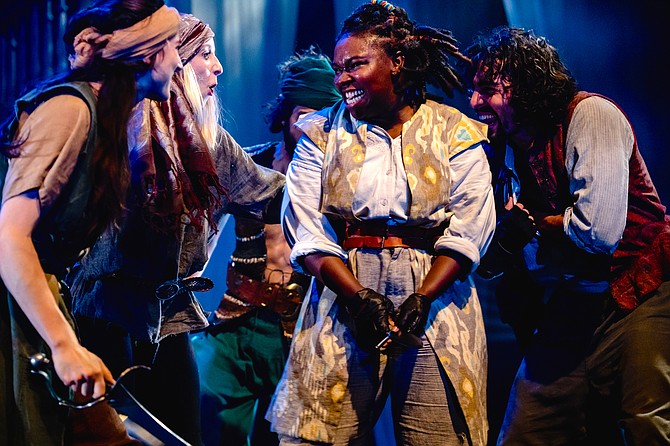 Synetic Theater is presenting "Treasure Island" from now through Aug. 18. This classic coming-of-age tale follows Jane Hawkins, an orphan who longs for adventure as she is swept up on a wild hunt for buried treasure with a ruthless band of buccaneers. Along the way, Jane's bravery, morality, and sense of self are put to the test as she learns about her past and the path she wants to follow.
Synetic's athletic artists will bring their signature brand of theatricality to sword fights and high-seas battles with pirates in a modern adaptation of Robert Louis Stevenson's tale of "buccaneers and buried gold."
Director Tori Tolentino said that "Treasure Island" was her favorite story as a child. "I was inspired to retell this classic tale in a more accessible manner. I hope to create a theatrical experience where families can step away from their daily routines and get lost in this swashbuckling adventure," she said.
She added: "This show has been an awesome adventure and I couldn't have asked for a better team. This show has a moving set, to help transport us from location to location. Coordinating and choreographing those movements on the stage was a fantastic 'all hands-on deck' challenge."
As far as audience takeaways, she added: "You don't have to accept the circumstances you are born or dropped into. Life is not a matter of holding good cards but a matter of playing poor cards well."
Anne Flowers plays the role of Jane Hawkins, a curious and misunderstood character. "She yearns for adventure but feels overlooked by many people in her life. She doesn't have a lot of friends her age but confides in the older people in her life that take the time to listen to her. She is scrappy and grows a lot on this big treasure hunt adventure. Jane is trying to find her place in the world tucked between intellectuals and pirates," she said.
She said that most of the challenges were fun ones. "I enjoyed working with and learning how to climb around on our big jungle gym of a set. I have a fight scene that takes place on the ship, so we had to make sure we could keep as much of the original choreography we learned in our rehearsal space and then adapt it to the actual 3D structure," she said.
She added: "Another challenge for me is to stay true to the innocence of playing a younger character. Young children/adults react to situations differently than jaded adults do, so I try to keep that in mind during every scene I'm in. It's been refreshing to live through the eyes of a young character; I can leave a lot of my 'adult' problems at the door."
As far as audience takeaways, she said: "I hope that audiences feel like they went on a grand adventure. I also want young (and old!) audience members to be inspired to stand up for themselves and seek their own life adventures. My wish is for audiences to see and experience how much fun and love has gone into this show."
Darius Johnson plays the role of Abraham Gray, a humble member of Captain Silver's crew. "Gray is all about the comradery of his crew. He is always first at the docks in the morning. Gray looks forward to the early routines and sailing the rough seas. Although full of swashbuckling energy he allows himself to think before he acts. He's a scrappy one, always willing to learn from his closest mate Tommie (played by Irene Hamilton). He is not aboard for the glory of treasure but to celebrate and see his fellow mates prosper," he said.
He added: "I was challenged with finding the specific physicality of Abraham Gray; he is not your average pirate. He is very spontaneous, but still grounded in his own body. It was not enough to roll, jump, or flip, but rather figure out how Gray does all of these particular movements. When I began stripping away my habitual physical traits and replacing them with his, I could then understand the way he walked, what part of his body he led with, and ultimately how he physically displayed his emotional status. The product of facing this challenge is a three-dimensional character who proudly moves to the beat of his own drum."
He said he hopes audiences realize that this story is for everyone. "No matter if you are listening to it as a little 5-year-old girl or a 60-year-old ex-pirate from the Caribbean — this story has the power to inspire, and I hope that audiences have eye-opening experiences when witnessing this high-sea adventure. Jane Hawkins' journey illustrates that no matter who you are, you are capable of capturing that beautiful gleam of glory that you seek, that dream you see so far can be in your grasp if you fight for what you truly believe in. Just don't trust any one-legged pirate cooks," he said.
The cast includes Anne Flowers as Jane Hawkins, Chris Daileader as Long John Silver, Da'Von Moody as Dr. Livesey, Karina Hilleard as Trelawney, Billie Krishawn as Smollet, Scott Whalen as Ben Gunn, Lee Liebeskind as Billy Bones, Irene Hamilton as Black Dog, Raven Wilkes as Pew, Connor Donahue as Flint with Darius Johnson and Anna Lynch in the Ensemble.
The creative team includes choreography by Dallas Tolentino, scenic design by Phil Charlwood, music by Konstantine Lortkipanidze and sound design by Thomas Sowers. Stage manager for the production is Marley Giggey and the production manager is Phill Giggey.
Synetic Theater is presenting "Treasure Island" from now through Aug. 18. Tickets are $35 and up; and $15-$25 for students and ages 25 and under. Tickets are available online or at 866-811-4111. Industry Night is Monday, Aug. 12. The venue is located at 1800 S. Bell St. Arlington. Visit https://synetictheater.org.