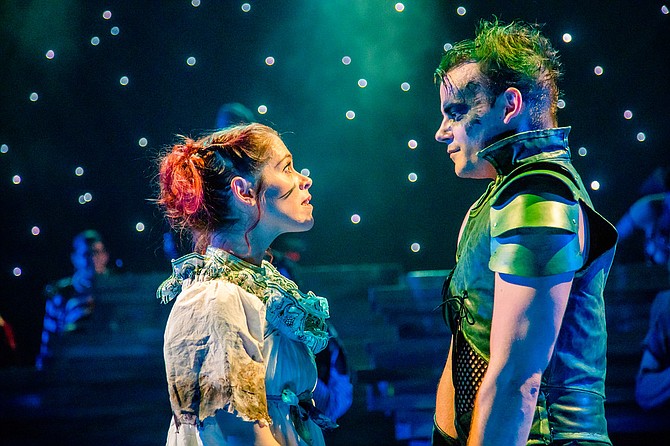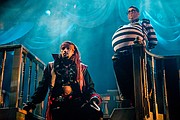 Synetic Theater in Arlington is presenting "The Adventures of Peter Pan" now through Nov. 19. Take flight to Neverland with Peter Pan, his Lost Boys, and the Darling children. In this place filled with fairies, pirates, and mermaids, Peter Pan and crew will battle the sinister Captain Hook with acrobatics that will leave the audience on the edge of its seat.
Director Paata Tsikurishvili said there's a reason why the story is a world classic — loved by both children and adults. "It speaks to everyone, and has tremendous potential for movement and physicality," he said. "I also thought Alex Mills, one of our company veterans, would make a great Pan. With his skill sets, in both acting and movement, it's a character he was born to play."
He said he wanted to adapt the story to fit Synetic's unique acrobatic style, and to tell this story in a way that's never been done before. "We also wanted the opportunity to bring the whole family together, to introduce them to the magic of Synetic's singular storytelling style, as well as to the beauty of this story," he said.
He said his challenge as a director was to recreate the sense of "magical realism" that's conveyed throughout J.M. Barrie's book, while maintaining authenticity. "To find the nuance of these characters and break the stereotypes – bringing something new to the characters when they're so well known. And of course, as with any production of 'Pan,' realistic human flight was also a big challenge," he said.
Alex Mills plays the title role of Peter Pan, whom he says is the embodiment of youth. "On the surface he can be seen as this precocious, somewhat arrogant-type child in the kind of reckless abandon he has for adventure and danger," he said. "The interesting thing, though, going deeper is why he never wants to grow up; the fear of death, the fear of losing loved ones and having to face your own mortality."
He said the show went through many iterations before reaching what is now the final product. "The script changed a lot through the process along with the various movement sequences that accompany them," he said. "Keeping that all tracked in my brain was definitely a challenge. The great thing, however, is how adept the entire ensemble is at being quick to adjust."
All in all, he hopes the audience will leave the show with a sense of wonder and magic. "To embrace, however young or old, the inner child we have in all of us. Like I say in the show, 'to dream, to pretend, to lay in the grass and walk barefoot,'" he said.
Ryan Sellers is playing the role of Captain Hook, an egotistical, insecure, self-righteous, selfish, uncaring, vengeful, scared, ruthless, cunning, lying pirate. "It's awesome," he added.
He said the challenges were ones that occur when he's working with a fluid-minded, perfectionist like [director] Paata. "He wants to change the story often to maximize the drama, action, and let the story flow in a way that keeps it one step ahead of the audience," he said. "As an actor that means not getting married to any particular choice, dialogue, or set choreography, because you can leave rehearsal Friday night and come in Saturday afternoon to see that your work from yesterday has inspired him to something new and entirely different today. So we have to let go of our egos and serve the story as he sees it."
He said he hopes audiences can forget about how complicated and difficult the world around us has become and see the magic and joy they are experiencing on stage. "It's truly a joy to tell this story and we hope that joy is contagious. It's for kids to laugh, learn, and grow, and for adults to laugh, remember, and relive," he said.
Kathy Gordon is playing the role of Wendy Darling, a young girl who can't wait to grow up. "She loves her brothers and is always fiercely protective of them. Wendy is loyal and very brave and falls for Peter almost instantly," she said.
She said the biggest challenges have been the flying sequences without a doubt. "Our grid does not allow for a traditional flying set up and, of course, you have to fly in Peter Pan so it has been a wonderful challenge working within our restraints to create magic," she said.
She hopes that everyone leaves after the show with a sense of wonder having just experienced an evening of adventure. "No matter your age you will fall in love with this magical production," she said.
Synetic Theater in Arlington is presenting "The Adventures of Peter Pan" through Nov. 19. Show times are Wednesdays through Saturdays at 8 p.m.; Saturday and Sunday matinees at 2 p.m. Tickets are $20 to $60. The venue is located at 1800 South Bell Street, Arlington. Call the Box Office at 866-811-4111 or visit the website at www.synetictheater.org.