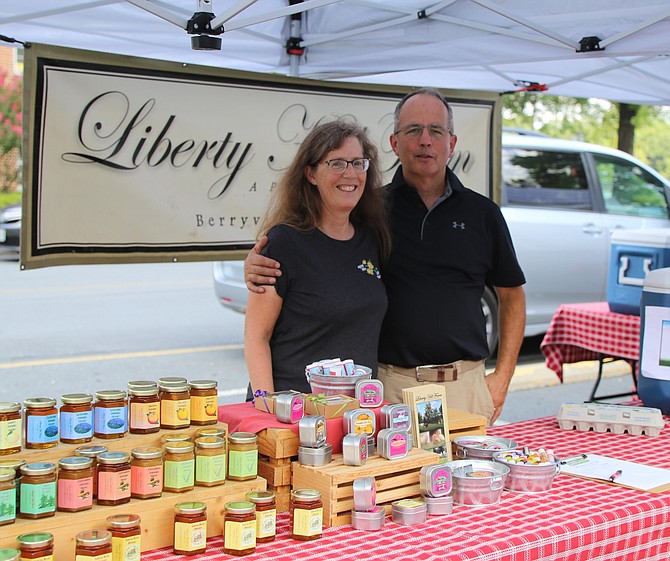 This farmers market is located at a scenic place near the Great Falls Village Centre. For more than ten years people come here every Saturday to buy organic meats, eggs, dairy products, fresh fruit and vegetables, honey and baked goods, olive oil and spices. The Farmers Market also fosters a sense of community among their customers: Not only do they shop for farm fresh food, but also enjoy the festive atmosphere with friends and family.
This year, the market is flourishing under the volunteer supervision of Marika Tsombikos, Elaine Shadid and Lilia Dubynin. Tsombikos shared that all their dedication and support are driven by a feeling of respect and admiration of her mother, Kathleen Murphy, who served as a market's manager seven years until her death in January this year. Kathleen believed that the success of the market depends upon the community's collective commitment and effort.
Talking with vendors is a great way to learn something new. Everyone has a story to tell.
SEVEN YEARS AGO, Leslie Hollander, a classically trained professional actress who has performed on and off Broadway, regionally, and for years at the Kennedy Center, decided to take her artistry in a different direction and started a new pastry and bakery business in Great Falls, "Sugar Up, Sugar!" Together with her son Benjamin, she makes bespoke cakes, pastries and cookies at home. Each of her wedding and birthday cakes are a masterful piece of art.
"I come to the market every Saturday," Hollander said. "During weekdays, I do special orders. Every cake is unique and custom designed. That is how I express myself through my cakes".
Ken and Andrea Matich, owners of Liberty Hill Farm from Berryville, work behind the counter in the market tent. "We are a small family farm," Andrea Matich explained. "My husband and I and two of our kids run this business. Every Saturday we sell our products at the three different farmers markets at the same time." Ken and Andrea are convinced that many health problems are related to unhealthy, commercially produced food. "Ten years ago, we decided to improve our eating. When we realized there are issues with genetically modified crops, we started looking for a source of pure food. We believe that real food is real medicine. So, we raised our own crop. For ourselves and a little bit more in case if somebody else wanted what we had. One thing led to another. Now we have chickens, turkeys, pigs, cows, and lambs." Almadelia Diaz, owner of the Diaz Berries and Vegetables, has been working at the farm since she was eight years old. Five decades now, she has been growing fruits and vegetables. Her farm is a small family business which Diaz and her husband Gonzalo run together with their children. "We grow, pick, and sell everything by ourselves," Diaz shows her knees full of bruises."It is hard, but things got better year after year. We are growing, and already got more helping hands. Our children, grandchildren, and few handworkers are assisting with daily tasks."
Lilia Dubynin sells produce from Tuscarora Organic Growers Cooperative in Pennsylvania. "Have you ever seen a watermelon with seeds? Today a lot of kids were surprised by that. Many boys and girls see the world through the prism of mass market stores."
GREAT FALLS FARMERS MARKET is open every Saturday from 8 a.m.-1 p.m. The market is a great place to enjoy different musicians every week. On Aug. 17, the market organizes a karaoke contest where you can show your talent and compete for the prize. The winner will receive a market basket full of delicious contributions from the vendors who will also serve as judges. Come and shine!
Location: 778 Walker Road, Great Falls.