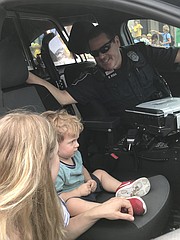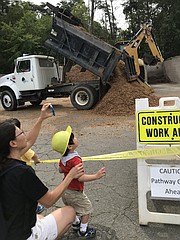 No matter how young or old one is, trucks, maintenance equipment and public safety vehicles are fun to watch. Even better, though, is the opportunity to get up close and personal. On Friday, Aug. 2, one of Reston Association's most popular summer happenings, Totally Trucks, returned for its 20th Anniversary event at the Central Services Facilities, 12250 Sunset Hills Road.
Reston Association (RA) crew members encouraged children and adults to climb aboard their smaller, mostly off-road units. Children clamored onto the Batwing Mower used by RA's grounds crew to cut large fields and the Bombardier, a small skidded plow RA staff nicknamed "Iceman," used to clear snow off the 55 miles of Reston pathways. The crew also invited community members to explore the public safety units brought in by Fairfax County, a Connector bus and a mail truck, and demonstrated its rough and tough construction vehicles. Community members watched dump trucks and bulldozers recreate a grounds maintenance site and even a Genie scissor lift maneuver in the tight roped-off space and soar to twenty-five feet. Oliver Seng, 2 ½, stood with other children behind the demonstration safety lines. He watched transfixed as RA's skilled crewmembers shoveled, lifted and dropped material into the dump trucks. Oliver's mother, Diana, filmed the big rigs in action, for the second year in a row. "We came last year, and Oliver made me play the video every day," she said with a sigh.
For other truck loving toddlers such as Tess Shreeve, 2 1/2 of North Springfield, this was her first visit to Totally Trucks. However, it wasn't the trucks that thrilled her the most. "Tess' favorite is the bus," said mom Claire.
Jenna William of Fairfax said that her son, aged 2, liked the police cruiser from the Fairfax County Police Department Sully District Station best. The toddler sat in the passenger seat beside Officer R. Roda then tried out the backseat. Asked what he thought of his participation in RA's Totally Trucks event, Officer Rada said, "I like to be engaged with the community."
Paula Fogerty of Reston and her grandson, Charlie, 2, checked out a Bombardier, one of the tracked sidewalk plows RA used to clear snow from the 55 miles of pathways it owns. However, Charlie preferred to look at rather than climb aboard the beast. "He loves trucks, but when he gets up close, he gets timid," said Fogerty.