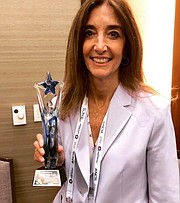 The National Conference of State Legislators (NCSL) Annual Conference is an opportunity for elected officials on both sides of the aisle from state legislatures across the country to meet and share ideas on how to make government run more smoothly at the state level. This year, Nashville hosted the conference and in between plenary sessions and panels, they honored several women legislators with their "Women in Politics Making a Difference" Award. One of this year's honorees was Del. Eileen Filler-Corn (D-41).
Each year, honorees are selected for making an impressive impact "through perseverance, collaboration and, most importantly, pursuing their dreams." Filler-Corn's nomination originated from her successful work as a member of the House of Delegates since 2010, as well as her recent ascension to the role as Leader of the Virginia House Democratic Caucus this past January. She is the first woman in the 400-year history of the House of Delegates to lead a caucus.
"I am truly honored to receive this award from NCSL," said Del. Filler-Corn. "To join this group of accomplished women legislators is incredibly humbling."
When she was first elected in 2010, Filler-Corn was the only legislator who was a mother of school-aged children. Since the 2017 election, the number of women in the House of Delegates has dramatically increased. For her part, Filler-Corn particularly enjoys mentoring younger women legislators and candidates.
"So many women paved the way for me. It is only fitting I pay it forward for the next generation," added Filler-Corn. "I have no doubt that many more women legislators from Virginia will receive this award in the future," she said.