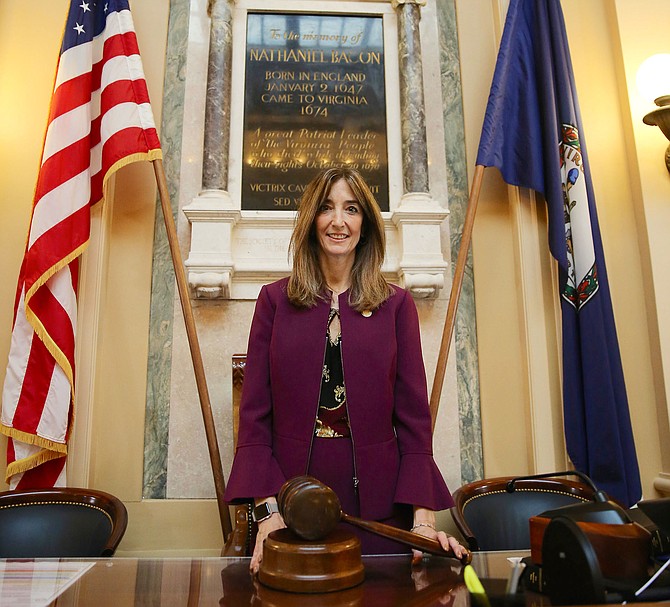 When the Virginia General Assembly reconvened for the 60-day 2020 Session, the week opened with a series of firsts. The first time since 1993, Democrats took the reins with a trifecta: In the 2019 election, they garnered decisive majorities in the House of Delegates and state Senate, with a Democratic governor..
Women rose to power in numbers and leadership positions. Gov. Ralph Northam announced the new "Virginia 2020 Plan", and with it said, "The landscape has changed."
For the first time in a long time, Republicans could not stop the Democrats from advancing landmark legislation such as the Equal Rights Amendment, gun policies and climate control measures. Democratic legislators, many from the Fairfax County delegation, filed bills and resolutions, rallying in support of the 2020 Plan.
Tuesday, Jan. 7: With Speaker-designee Eileen Filler-Corn (D-41), incoming Senate Majority Leader, Richard L. Saslaw (D-35), incoming House Majority Leader Charniele Herring (D-46), and incoming Senate Caucus Chair Mamie Locke (D-2) standing by, Northam talked about his 'Virginia 2020 Plan.' "It's more forward-looking," he said.
The 11-Point Plan includes: pass the ERA; restore women's reproductive rights; ban discrimination in housing and employment; raise the minimum wage; make voting easier with no-excuse early voting and make Election Day a state holiday; reform criminal justice by ceasing suspending driver's licenses for unpaid fines; advance common-sense gun safety measures, universal background checks, "Red Flag" laws, restore one gun a month limits; fight climate change; protect natural resources; increase education funding including free community college for low- and middle-income and people going into high-demand fields with in-state tuition for DREAMers; and expand transit and broadband.
Incoming Senate Majority Leader Saslaw (D-35) said they were going to be sure that Virginia became a better place to work and do business.
Speaker-designee Filler-Corn added: "We intend to protect Virginia's greatest assets."
Wednesday, Jan. 8: The Virginia General Assembly officially reconvened. Outside the capitol building, demonstrators aired their concerns — ERA, gun reform, climate change, and more.
Inside, shortly after 1 p.m., applause welcomed Del. Filler-Corn as she entered the House floor before being sworn in as House Speaker by Virginia Supreme Court Chief Justice Donald W. Lemons. House Speaker Filler-Corn became the first woman and first Jewish person to hold the office.
"This session brings many firsts. We will have the first women of color to lead committees and have a historically diverse group of committee chairs and vice-chairs. And these leaders are Members of the most diverse House of Delegates in Virginia history. This House is not only diverse in terms of race or gender. The Members of this House represent a wide range of experience, thought, orientation, religion and backgrounds… The people demanded we act on many areas where Virginia has lagged behind. This House will pass the Equal Rights Amendment. And we will address discrimination in our laws. We will take common sense measures to prevent gun violence and keep Virginians safe. And, we will address the threat that climate change poses to our entire Commonwealth, especially our coastal communities."
Del. David Bulova (D-37), later said, " I couldn't be more proud of my colleague Eileen Filler-Corn, who my wife and I have called friend for more than 20 years."
That evening, Gov. Northam, 73rd Governor of Virginia, delivered the annual State of the Commonwealth address. He highlighted accomplishments and shared his vision to continue building a "stronger, fairer, and more equitable Virginia." he said.
Afterward, Sen. Dick Saslaw (D-35) tweeted, "This evening, @GovernorVA delivered a resounding message that the state of our Commonwealth is strong! VA is a better place to live and work for so many people. I look forward to the progress the Senate can deliver working with Gov. Northam over the coming months."
Attorney General of the Commonwealth of Virginia Del. Mark Herring tweeted, "I'll be pushing to Decriminalize marijuana Resolve past convictions Move toward legal adult use Pass the ERA Pass common-sense gun safety laws Address the rise in white supremacist violence Stop predatory lending Let's go."
Friday, Jan. 10: By early morning, the Virginia Legislative Information System posted 2,574 bills and resolutions filed by delegates and senators for the 2020 Session.