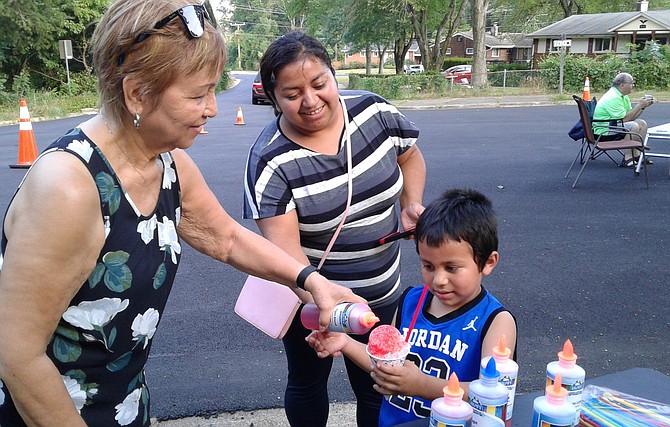 On National Night Out, residents gathered in a quiet cul-de-sac off Indian Run Parkway as a snow cone machine helped residents of the Bren Mar neighborhood cool off at the end of a hot, muggy day.
Under the supervision of block party hostess Sue Hotto and her long-time neighbor Fleur Noeth, snow cones were ready at a quarter past 6 o'clock: 5-year-old Santos Cruz wanted his snow cone covered in a sweet, red flavoring called "Tiger Blood." At least seven other youngsters were in line to get their shaved-ice treats doused with the most popular "Cotton Candy" blue and other assorted flavors.
Creativity is encouraged and some youths go for a dynamic color and taste palette with two and more flavor dyes in orange, lemon-lime green and purple grape.
Marvin Salcedo, 57, wants to know if the cool treat is called a snow cone or shaved ice. People Down South — where the summer air is downright hot, humid, stagnant and human dignity cries out for winter flurries — need a snow cone. People Up North — who are still thawing out from last winter's polar vortex — may prefer shaved ice in early August.
Salcedo hails from Hawaii and says his people on the Island of Maui call it shaved ice.
BREN MAR IS BLESSED with neighbors of diverse backgrounds who know how to fill a buffet table with grilled hot dogs and homemade pasta salad, Caesar salad, fruit salad, mini chicken egg rolls, sheet cake, cupcakes and oatmeal cookies.
Little children loaded up on sugar and burned it off jumping inside an inflated bounce house provided by Northern Virginia real estate broker RE/MAX Gateway. Others played a toss game called cornhole and visited a bubble making station on the smooth, clean, newly resurfaced street.
Nearly 60 Bren Mar residents of all ages do what National Night Out was made for, enjoying each other's company during a potluck dinner, catch up on community activities and appreciate their local first responders who help make their neighborhood a safe place to live.
Two Fairfax County Police officers arrived before 7 p.m., mingled with residents and gave party favors to children.
Part of the community charm is residents move to Bren Mar and stay put. Nestled along Edsall Road near the corner of Interstate 395 and the Capital Beltway, the neighborhood is a convenient spot and straight shot for federal government workers who drive just 8 miles to the Pentagon and 12 miles across the Potomac River to the U.S. Capitol.
That's what drew Salcedo, who works for the government, to Bren Mar in 2000. He adds residents have their pick of mass transit options, including Metrobus and the Fairfax Connector. He appreciates how his son's former elementary school is just a block away.
NATIONAL NIGHT OUT 2019 provides an opportunity for political candidate Gary N. Aiken to meet local taxpayers and listen to their concerns. Aiken is a Republican running for the Fairfax County Board of Supervisors in the Nov. 5 General Election against incumbent Mason District Supervisor Penelope "Penny" A. Gross, who's on the Democratic Party ticket, and serves the county as vice chairwoman of the board.
The gathering is on the west side of a stream residents cannot see through dense vegetation.
Long-time homeowners Sue and Gary Hotto told Aiken their neighbors kept the creek clean for years. Then the county interfered. Although it removed invasive species, and planted a rain garden at Bren Mar Drive and Indian Run Parkway, it left tree cuttings in the small waterway.
The local government tried to fix something that wasn't broken, sank a lot of money into the project then let it rot, according to the Hottos.
The creek is not part of the $1.7 million Indian Run stream restoration project started in winter 2015 at Indian Run Court and Columbia Road in Annandale, which is detailed online at the Fairfax County Public Works and Environmental Services.
This is something Aiken, who has lived in the area for 16 years, can sink his teeth into.
"Mason District has been neglected," he believes. Aiken says he works as the chief risk officer for the American Armed Forces Mutual Aid Association, which provides life insurance and financial services to military employees and their families. He says he wants to fund parks, enforce codes to keep streets safe and help maintain streams.
NATIONAL NIGHT OUT 2019 does not close up shop until the guests of honor arrive around 8:15 p.m., when McGruff the Crime Dog and Fairfax County Police Officer Alice "Allie" Eggers are celebrated by appreciative Bren Mar residents.
Eggers is the crime prevention officer at the Franconia District Police Station and plans to retire in December after 25 years of service on the force. Her mission Aug 6 was to mark the annual National Night Out — her last as a police officer — with a county record of 50 block parties in her precinct.
Eggers offers active violence training to civic groups and churches. Call 703-922-0889 for information or send an email to alice.eggers@fairfaxcounty.gov. Other crime prevention resources are available online at fairfaxcounty.gov/police/district/franconia.