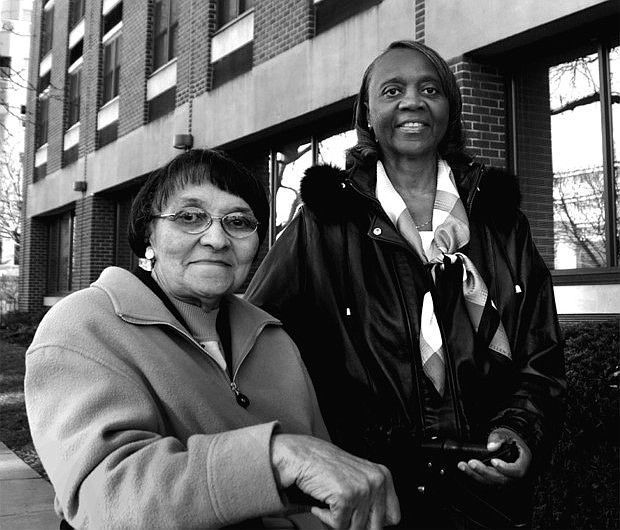 "Peggy was the best big sister you could ever want. She is the reason I did something with my life." — Henrietta Johnson, sister of Gwendolyn "Peggy" Menefee-Smith
Gwendolyn Menefee-Smith, a crusader for public housing tenants' rights and an organizer of the Alexandria Tenants Council nearly 50 years ago, died July 23 at Virginia Hospital Center in Arlington. She was 75.
A one-time tenant of public housing, Menefee-Smith worked to address what she saw as an attitude of disrespect and unfair practices against minorities and low-income residents. Through the Alexandria Tenants Council, she worked with city officials and the Alexandria Redevelopment and Housing Authority to establish non-discriminatory housing regulations.
"The administrators were so disrespectful and rude and intrusive in your personal life when people just needed a safe, decent place to live," said Menefee-Smith when selected as a Living Legend of Alexandria in 2012. "Just because you're in public housing, it does not need to be a death sentence. We were taxpayers, law-abiding decent citizens and we had a right to have voices in how and where we lived."
Born Sept. 23, 1943, in Birmingham, Ala., Menefee-Smith was the 11th of 12 children born to Willman Mann, a coal miner, and his wife Rosemary. Known to her family and close friends as Peggy, Menefee-Smith spent her childhood summers visiting a grandfather who lived on Princess Street before moving to the city full time as a teenager.
"She was always looking out for me," said Henrietta Johnson, the baby of the family by five years. "Wherever she went, I went. I think I was a teenager before she let me cross the street alone."
Johnson admits that she was the "hard-headed" one in the family but credits Menefee-Smith with keeping her grounded.
"Peggy was the best big sister you could ever want," Johnson said. "She is the reason I finished school and went to college. I liked the bad boys but she kept me out of trouble and was the reason I did something with my life."
In the early 1960s, Menefee-Smith and her then husband, Luther Menefee, began raising a family. Following a divorce, the single mother had limited resources and temporarily ended up in a public housing apartment.
Undeterred by her challenges, Menefee-Smith utilized scholarships and transportation assistance to attend Northern Virginia Community College, then George Mason University to earn a bachelor's degree in social welfare. She attended Howard University on a scholarship and obtained a master's degree while simultaneously working 20 hours a week.
Along with close friend Dorothy Turner, Menefee-Smith extended her advocacy to voter registration drives and support for politicians who were sensitive to the needs of the minority community.
"My sister did a lot of things for a lot of people," Johnson said. "She was a foster parent and worked on adoption programs. She was especially passionate about getting kids into good homes."
For several years, Menefee-Smith worked for ARHA then moved to a company in Washington, D.C., that provided health care for the elderly.
"There aren't enough words to describe the giving and caring spirit of Gwen Menefee-Smith," said ARHA director of Resident and Community Services Gaynelle Bowden-Diaz. "She played a pivotal role in the preservation of affordable housing and will always be remembered for her passion and commitment to others."
In 2010, Menefee-Smith and Turner were presented with the ARHA Commissioners' Special Recognition Award for their dedication and service to the ARHA community and the residents of Alexandria. In 2012 the two were together selected as Living Legends of Alexandria.
Menefee-Smith was preceded in death by her husband, Donald Smith. She is survived by her children, Eddie Menefee, Cassandria Menefee, Steven Menefee and Sheila Menefee; grandchildren, Devon Menefee, Cedric Bowden, Dennis Bowden, Lakisha Gravely and Frances Bowden. She is also survived by her siblings, Janie Watkins, Clara Coleman, Henrietta Johnson, Catherine McNeil and Walter Mann.
A memorial service will be held Friday, Aug. 16, at 11 a.m. at Alfred Street Baptist Church, 301 S. Alfred St. A visitation will begin at 10 a.m. Interment will take place at Mount Pleasant Cemetery.
"I can't begin to tell you the loss," Johnson said. "All my sisters were good sisters, but Peggy and I had a special connection — I can hear her fussin' at me now. I really was the problem child, but she was always there for me and I thank God for that every day."