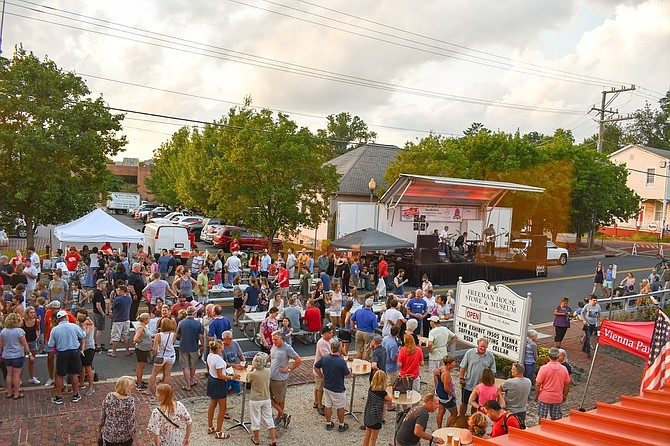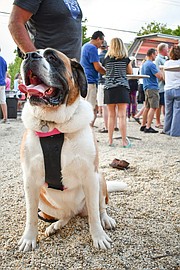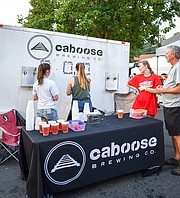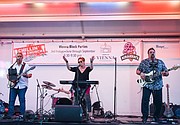 A giant Saint Bernard named Abracadabra, lying down in front of the Freeman Store, seemed to steal the show as people came up to say hello at Vienna's monthly summer event, Chillin' on Church.
Abracadabra's owner, Debbie MackPherson of Vienna, said that they call her Abby for short. "This is the second time we've been to Chillin' this summer," said MackPherson. "I love how it's for everybody. Old, young, everybody. It's a great turnout. The music has been great and it's fun to have something like this for the community." People milled about while drinking beer from Vienna's own Caboose Company as well as wine from the Vienna Vintner. Popular songs flowed from the rock/dance band "Big Bad Julu" as adults and kids danced in the street. Food trucks were serving specialities from lobster rolls to gourmet grilled cheeses. Ben and Jerrys', co-sponsor of the event with the Town of Vienna, scooped ice cream on the Town Green. The Freeman Store and Museum offered a refuge from the heat as the event took place at its doorstep.
"It takes a whole lot of preparation," said Natalie Duncan, Teen Center Supervisor for the Town of Vienna. "We have meetings about it and get really good feedback as far as what improvements can be made and what kinds of opportunities we can take part in. For example, we had way more food trucks this year than last year, we've had some different types of bands come in this year, and we've gotten locals to come in such as Caboose and the Vienna Vintner. Attendance has been good and I think this is an event that people look forward to in the town. It's certainly my favorite Vienna event."
Conversations drifted through the air of how the Vienna community embraces the feeling of small town America and how the welcoming residents never fail to provide a great experience. There was no shortage of laughs, smiles, and a sense of joy as people celebrated the last few weeks of summer.
As the night came to a close, "Big Bad Julu" played "Sweet Caroline." People danced, cheered, and even got up on tables and shouted the famous lyrics as the night ended on the perfect note. The last Chillin' on Church will take place on Sept. 20 from 6:30-9:30 p.m.