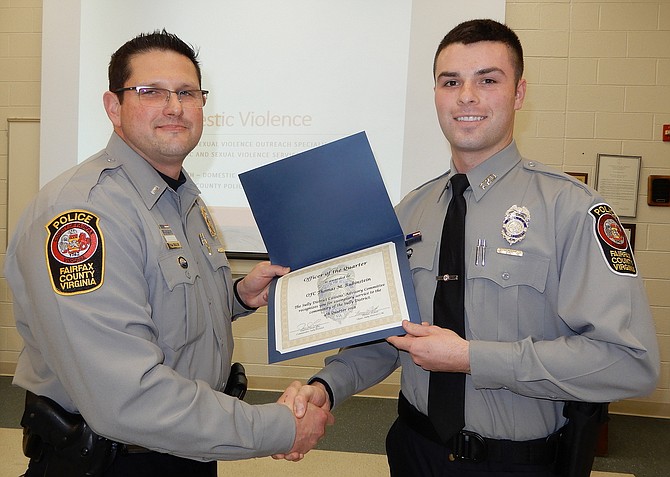 Officer Thomas Rubinstein has been selected as the Sully District Police Station's Officer of the Quarter for the fourth quarter of 2018. He was honored at the Feb. 13 meeting of the station's Citizens Advisory Committee.
In nominating him for the award, Sgt. Joshua Shoemaker said Rubinstein is "consistently a top performer" on the Sully District Station Evenings A squad. In addition to his proactive patrol, wrote Shoemaker, "Rubinstein often takes the initiative to follow up and complete investigations on his own that would otherwise be forwarded to another investigative authority for follow up."
Shoemaker said Rubinstein's desire to see an investigation completed — as well as to provide victims a sense of closure — is "exceptional" for a patrol officer. He then gave details of an investigation that highlighted Rubinstein's "exemplary effort and outcome."
Rubinstein responded to a scene to take a report of a larceny of a backpack from an unoccupied, locked vehicle parked at Braddock Park. During his investigation, he learned that the victim's debit card had recently been used to make several fraudulent transactions at multiple locations in the Burke area.
But rather than simply taking a report and forwarding it to detectives, Rubinstein continued his investigation, responding to a Walmart where the fraudulent charges had been attempted. He met with the store's loss-prevention personnel and worked with them to track the subject via the surveillance footage from the register where the purchases were made.
"Once identified from the point of sale transaction, Officer Rubinstein continued his investigation by reviewing video from the parking lot," wrote Shoemaker. "From his efforts, he identified the suspect's vehicle.
"Later that same evening, while continuing his proactive patrol, Rubinstein observed a U-Haul box truck matching the one being driven by the suspect. He identified the driver of the U-Haul as his suspect and initiated a stop."
Rubinstein then conducted a roadside interview and obtained a confession from the driver. Furthermore, during a subsequent search of the driver and vehicle, the officer recovered much of the victim's property, as well as evidence from other larcenies, additional stolen credit cards, and felony narcotics.

"Officer Rubinstein's passion to investigate the incident past the initial report — and keen observation in identifying and locating the suspect vehicle — brought this investigation to a successful conclusion," wrote Shoemaker. "In addition to bringing his own investigation to a successful outcome, he discovered numerous other victims and undoubtedly prevented additional crimes from taking place. For his continued dedication and commitment to the community, Rubinstein is the Officer of the Quarter for the Sully District Station."