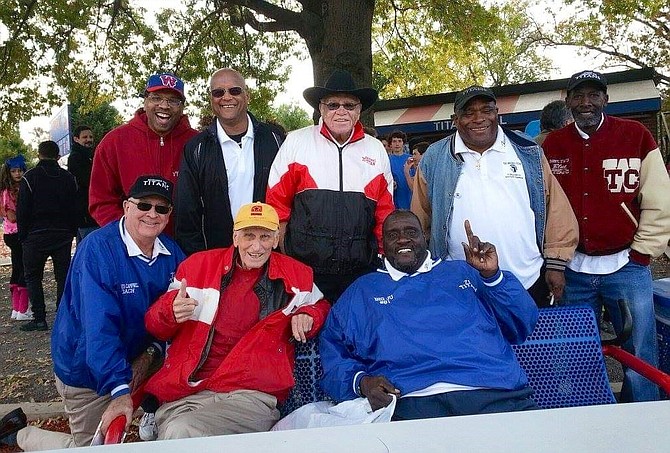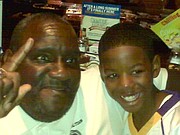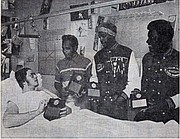 "You couldn't ask for a better teammate than old #81." —Former Titans player Rusty Reynolds
Julius Campbell, a star defensive lineman who helped lead the T.C. Williams Titans to the 1971 Virginia state championship title, died Jan. 25 of organ failure. He was 65.
Campbell had been hospitalized for several months prior to his death and former teammates visited him regularly.
"You couldn't ask for a better teammate than old #81," said Rusty Reynolds in a Facebook post. "I'll miss him deeply. The Titans are slowly going to heaven. God bless you — see ya soon love #14."
In 1971, T.C. Williams was newly merged with Francis C. Hammond and George Washington high schools and Campbell was a key player in cultivating friendships on the team after initial racial tension and school rivalries. The Titan's story was portrayed on screen in the movie "Remember the Titans," which starred Denzel Washington.
According to ACPS, the continuing issues at football games in the late 1960s and early 1970s were so bad that the school division moved all Friday night games to afternoons. In the summer of 1971, Superintendent John C. Albohm presented and implemented a plan that fully integrated Alexandria's three high schools aimed at meeting the standards set by the federal government to ensure Alexandria continued to receive federal funding. By the fall of 1971, T.C. Williams was fully integrated for grades 11 and 12.
Combining three schools into one created internal competition within the school's sports teams and organizations. The 1971 football team's leadership helped unify the school and break that tension. Under coaches Herman Boone and Bill Yoast, the Titans finished that season 13-0 and Campbell, Gerry Bertier and Brad Smith were named to the Washington Star's All-Metro team.
Campbell's senior year at T.C. Williams was less successful. The 1972 team went 8-1 overall and 5-1 in the district and lost their division to Fort Hunt High School by a single point, 8-7. The team did not advance to the Northern Virginia regional championship round of the Virginia Class AAA football playoffs.
A 1973 graduate of T.C. Williams, Campbell was born in Alexandria, the second of five children born to Hazel (nee Jarret), and Julius Campbell, Sr. With dreams of one day playing at Ohio State, Campbell attended Ferrum Junior College with plans to transfer. An ankle injury during his time at Ferrum ended his football career.
After college, Campbell returned to Alexandria to care for his ailing father. He went on to work for Animal Control in Alexandria and Prince George's County, Md. Along with other teammates, Campbell was often seen around Parker-Gray Memorial Stadium signing items to raise funds for the team and to keep the legacy of the '71 Titans alive.
The former teammates have for years held reunions and charity events to raise money for the '71 Original Titans Scholarship Fund as well as the Gerry Bertier #42 Foundation in memory of Campbell's close friend and teammate Gerry Bertier, who died in 1981. Bertier had been paralyzed from the waist down in a car accident following the team's state championship victory 10 years earlier.
ACPS noted that the success of the '71 T.C. Williams football team in the Virginia state championship made the reorganization of the school system easier to accept. John Stubbins, ACPS director of secondary education in 1971, told the Washington Post, "It's pretty obvious there's been a tremendous spillover into the entire system because of that team. The parents were thrilled to death to see these kids getting along and it's really helped. A lot of minds have been changed at the dinner table."
Campbell is survived by his wife, Cathy Campbell, daughter Sharron Murray, three stepdaughters, two stepsons and five grandchildren.
A memorial service for Campbell will be held Feb. 8 at Alfred Street Baptist Church, 301 S. Alfred St. Viewing at 10 a.m. with the service beginning at 11 a.m. In lieu of flowers, the family has requested donations to the '71 Original Titans Scholarship Fund. See www.71originaltitans.com.