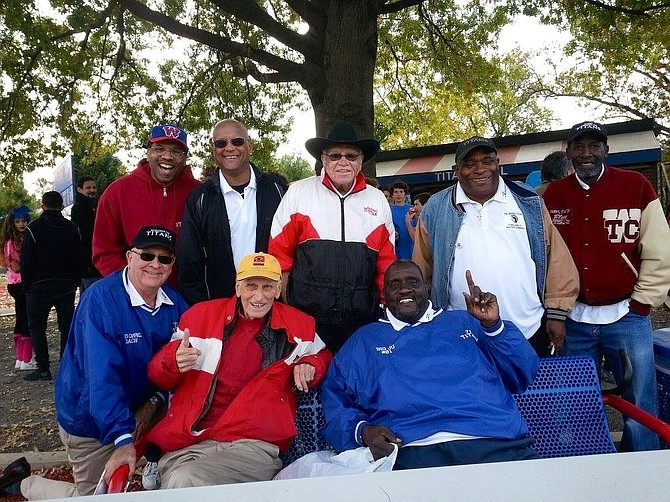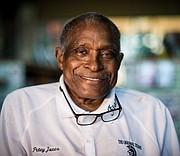 Petey Jones, a fullback for the legendary 1971 T.C. Williams High School football team and longtime employee of Alexandria City Public Schools, died July 1 following a long battle with prostate cancer. He was 65.
"We are beyond sad to hear of the passing of Mr. Petey Jones," said ACPS on social media. "He has been the heart of T.C. Williams High School since it opened, retiring only this past school year. Rest in Peace."
Jones retired last fall after nearly 30 years with ACPS. For much of that time he served as a security officer at T.C. Williams, where he was a standout football player during his senior year in 1971. Jones helped lead the team to an undefeated season and state championship that was dramatized in the 2000 Disney film "Remember the Titans."
Actor Donald Faison portrayed Jones in the film and paid tribute to him in an Instagram post.
"This morning I was able to speak with his daughter, Keisha. We talked about a few things … his battle with cancer that he ultimately lost, his love for community and the love he had for his family," wrote Faison. "What really resonated with me was how much he loved the Titans."
Jones was born Nov. 20, 1953, at Fort Belvoir Community Hospital. After graduating from T.C. Williams, he accepted a football scholarship to Norfolk State but withdrew in his sophomore season due to limited playing time.
He returned to Alexandria and joined the Alexandria Department of Parks and Recreation in 1986. He later became a security guard at T.C. Williams, where he liked to remind students that his fumbling problem depicted in the movie was fictional.
"I did not fumble the football," he would say in interviews.
Before the 1971 season, Jones played at George Washington High School. Following the merging of Alexandria's three high schools — George Washington, T.C. Williams and Francis Hammond — Jones became a linebacker for the Titans and played a key role on the defense.
Despite early struggles and internal conflict, under the leadership of Coach Herman Boone and Assistant Coach Bill Yoast, the team drew closer as the season progressed. Jones, a natural team leader, credited music with helping bring the team together.
"Being black and white and people learning each other's songs … that's one of the main things that helped us come together as a team," Jones told ACPS Express in an interview prior to his retirement. "Back then everything was black and white. Now you've got kids coming from all over the world. The big difference between us is … they've got more things to deal with than we did."
The death of Jones follows two others from the 1971 Titans. Coach Bill Yoast, who served as assistant to coach Herman Boone, died in May, and teammate Julius Campbell died in January.
A funeral service for Jones will be held Friday, July 12, at Bethlehem Baptist Church, 7836 Fordson Road. The viewing will begin at 10 a.m. and the funeral at 11:30 a.m. In lieu of flowers, Jones' daughter Keisha Boggan Campbell requests that donations be made to the '71 Original Titans Scholarship Foundation. See www.71originaltitans.com.