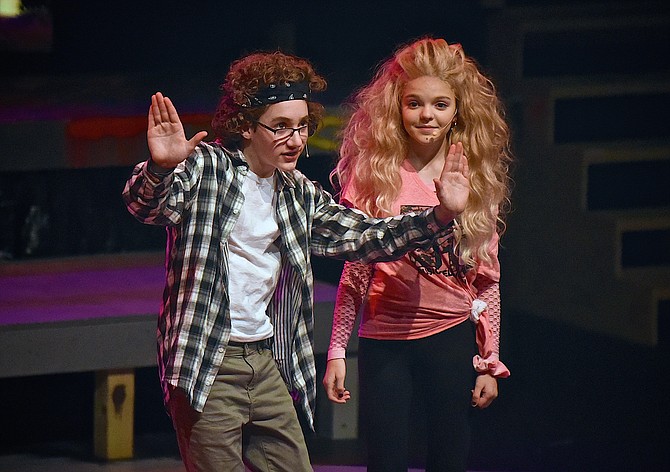 Returning back to directing after taking the year off, Amy Hard aimed to bring the audiences of Rambunctious Theatre Company to a concert of the 80s with Robinson Secondary School's production of "Rock of Ages: Middle School Edition."
With a cast of more than sixty students and a technical crew almost double that, Rambunctious Theatre Company has had their hands full with such an ambitious project. "Rambunctious has a special energy." says senior and stage manager Nikki Spina. "I've grown alongside the department and for 'Rock of Ages' to be my final show as a Stage Manager has been absolutely incredible. I get to watch magic happen every single day." The entire show process is a collaborative effort, as every student involved contributes some aspect to the show. "I see students work together and focus their energy into creating something they truly care about. I see kids making friends that they will be working alongside for the next six years." says Spina.
Not only are there middle schoolers contributing to the show, but there are plenty of high school mentors who have devoted their time to aid the show and make it as successful as possible. Many of the high schoolers have contributed to the shows when they were in middle school and were presented with the opportunity to become the mentors that they looked up to years later. "I vividly recall being a cast member when I was in middle school," said Robinson Secondary senior Cole Terra. "Tech was a very mysterious thing and I did not know exactly what it entailed. The high schoolers at the time had an incredible work ethic and diligence that was admirable and it imbued me with a desire to do tech for a theatre production. Today, I am in the position of those mysterious technicians I looked up to."
Leather jackets, crimped hair, and acid washed jeans, "Rock of Ages" will bring you right back to the eighties with their humongous set stained with graffiti and hand painted stage. "I have invested lots of planning and time into building one of the largest and most ambitious sets that I have seen." says Terra, who is working as the set and construction designer for the show. "The set has been coming together in a truly spectacular way, and has been built at an accelerated pace. Of all the sets that I have worked on, I am the most proud of this one".
"Rock of Ages" is not only special to the middle schoolers in the cast and crew but the high schoolers who are thrilled to give those younger students the same experience they had that kept them with theatre. "This show specifically means so much to me as it feels like a passing of the baton and a continuation of the legacy of the department that has shaped me. I am so thrilled to have been connected to a show that welcomes in a new generation of artists to the Rambunctious family." says Nikki Spina. Not only does the musical include songs such as "Final Countdown" and "Don't Stop Believin," the makeup includes colorful eyeshadows and teased hair and the costumes strut glitter and neon. Rambunctious Theatre Company's Rock of Ages is showing from Feb. 8 to 17, including a Sensory Friendly show on Feb. 13. Tickets can be found at robinsondrama.org.