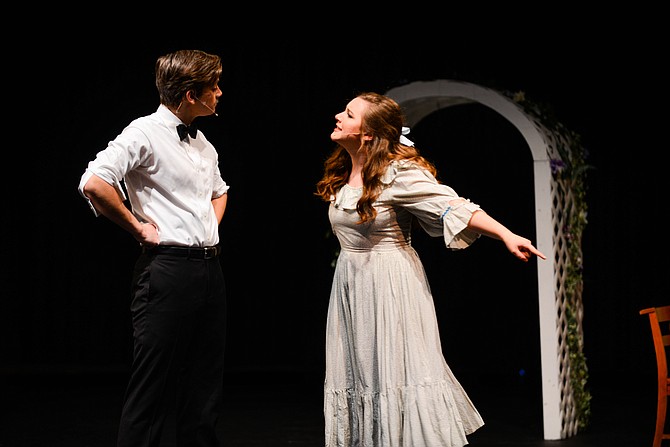 The students of Robinson Secondary School welcomed the new drama teacher and are thrilled to be working with her on their fall production, Thornton Wilder's "Our Town."
Rambunctious Theatre Company presented the classic play during the second weekend of November. "Our Town" guides the audience through the town of Grover's Corners and the lives of the people in the town; following the lives of George Gibbs, played by senior Nico Ochoa, and Emily Webb, played by senior Erin Reno. With a cast of 23 students from Robinson Secondary and 60+ tech members, the students have worked tirelessly over the course of three months to prepare for four shows over the course of the second weekend in November. From the makeup crew to the actors, each student has contributed a vital aspect to the show. Everything was student designed from the poster design to the set. The sound design was performed live with a sound crew creating the noises in real time with the show.
"The show has a connection to every single person who watches it and it really makes you think about how precious life is." says assistant director Zachary Foley, who is a senior at Robinson. "It really makes you think about how you can live your life to the fullest." Zachary has worked alongside director Madeline Marshall throughout the whole process, in order to gain an understanding of what he would like to pursue in his future.
Marshall is the new high school drama teacher at Robinson Secondary and is thrilled to start off the season with this play. "It has been an absolute joy to be able to begin working with the incredible students of Rambunctious Theatre Company. There is always a measure of intimidation when producing a show as well-known as 'Our Town;' there are so many schools of thought on Wilder's iconic piece. What truly impressed me was the brilliant creativity and thoughtfulness of all the students involved, both on and off-stage." said Marshall.
"They have brought so much heart and hard work to the play, which has made my job as their new teacher so much fun. Every day they impress me more and more, and have made me feel warmly welcome in the Robinson family."
With an upcoming season of "Almost, Maine," "Mary Poppins," and more, Marshall has a full season of shows with her students ahead and is thankful for the experience of working on "Our Town" to get to know her students.