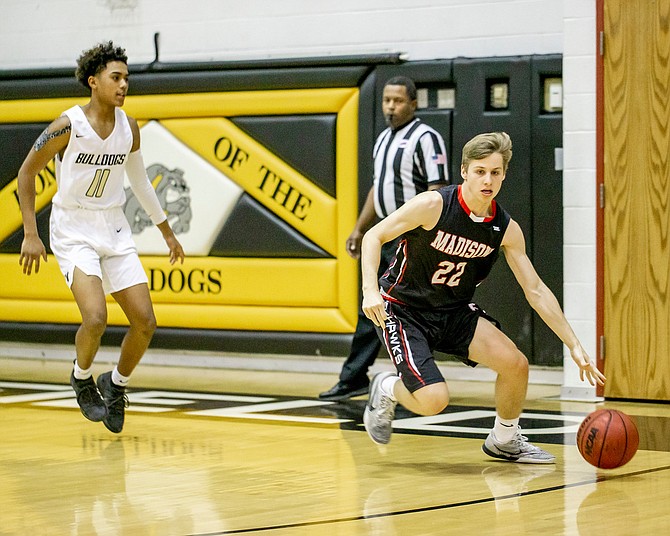 The Madison Warhawks and Westfield Bulldogs battled it out on the hardwood in Chantilly on Feb. 2. The game was a rescheduled game that was postponed due to inclement weather on Jan. 30.
The home team Bulldogs started off with an early 7-4 lead after playing the first eight minutes. Westfield's Tahj Summey scored 5 points, including a 3 pointer and two from the charity stripe. AJ Arnolie led Madison with two early baskets.
In the 2nd quarter, Madison scored 20 points and held the Bulldogs to 14, giving the Warhawks a 24-21 halftime advantage. AJ Arnolie paced the Warhawks with 6 points in the quarter while TJ Ulrich added 5, including a 3 pointer. Westfield was led by Marshall Reed's 7 points, and Sam Johnson added Westfield's second three pointer of the game.
In the 3rd quarter, Westfield was once again outscored by Madison, 22-13. Again, Westfield's Reed led Westfield with 8 of his teams 13 points, but six Madison players scored at least 2 points, including 8 points from Soren Almquist.
Down 46-34 starting the 4th quarter, Westfield did not pull any closer. Madison outscored the Bulldogs 15-10 to take a 61-44 win. With the win Madison improved to 10-9. Westfield fell to 2-17. Madison was led by AJ Arnolie who scored 18. TJ Ulrich and Soren Almquist added 9 each. Westfield was led by Marshall reeds 17 points. Tahj Summey scored 8 and Sam Johnson and Trent Reimonenq added 7.