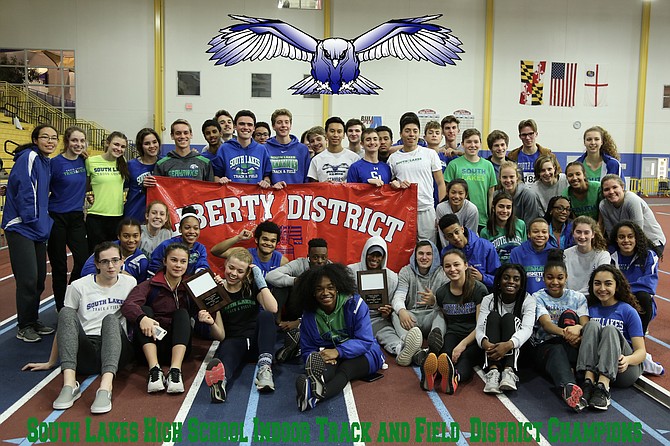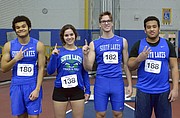 It took a sweep to keep the streak going for the South Lakes High School boys indoor track team. So, finishing first, second and third in the shot put also took the team lead away from Herndon High and give the Seahawks its 11th consecutive Liberty District Indoor Track and Field Championship.
South Lakes finished the two-day championship, held at Prince George's Sports and Learning Complex in Landover, Md., with 134.50 points. Herndon followed with 113. Washington-Lee scored 78 points for third, followed by Yorktown (51), Langley (50.50) and McLean (38).
The girls team had little difficulty in winning its eight consecutive district/conference title. They scored 176.50 points (88.50 on the first day) and were followed by Washington-Lee (90), Langley (84.50), McLean (50), Yorktown (45) and Herndon (18).
With two events, shot put and 4x400 meter relay, left to be scored, Herndon was up by nine points. South Lakes junior Caleb Miller, the No.1 ranked thrower in the district, won the shot put with a throw of 46-04.00. His teammates, seniors Jon Lister and Immanuel Semelfort, completed the sweep with their best throws of the season. Lister, whose personal best was 39-03.00, threw 45-03.00 for second place. Semelfort had a throw of 40-01.50 for third. His personal record was 35-09.00.
South Lakes dominated all four relays on Day 2 of the championships. Senior Jordan Anderson, junior Rhema Konadu, sophomore Juviannadean Mullings and freshman Jillian Howard won the girls 4x200 meter relay in 1;46.67. Seniors Nicky Napolitano, Daniel Ezidinma, Stevie Jones and junior Jackson Cooley followed and topped that performance by winning the boys 4x200 in a meet record time of 1:32.35. The previous mark of 1:33.04 was set in 2012 by SLHS.
In the 4x400 meter relay, seniors Nicole Post, Jordan Anderson and juniors Caitlyn Morris and Emily Lannen combined for a 4:07.40 for the win while Napolitano, senior Will Shapiro, junior David Ramirez and freshman Tyler Benett won the boys 4x400 in 3:36.17.
SLHS will compete in the VHSL 6A Region D championship scheduled for Feb. 13 and 14 at the Prince George's Sports and Learning Complex in Landover, Md.