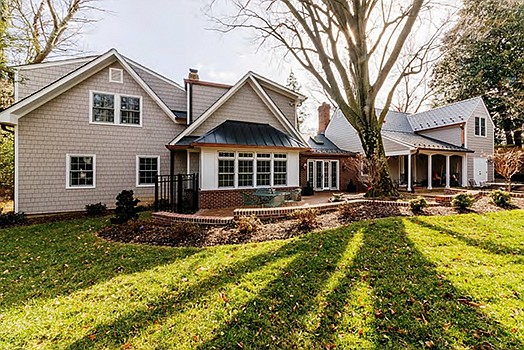 In early February, Daniels Design and Remodeling of Fairfax was awarded a 2019 Contractor of the Year Award from the National Association of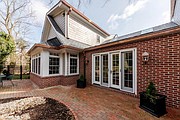 the Remodeling Industry (NARI)/Metro DC Chapter for our Residential Exterior Project Over $200,000 for a makeover of sorts for a home in McLean.
Looking dated is always going to happen with anything in real estate, and this house in McLean needed a makeover, so the Daniels' delivered. In the back, they used different materials and altered roof lines to improve the patio, enhance the space of their breakfast room area and enlarge their kitchen, which required exterior addition and renovation. Their efforts cut the maintenance needs and address drainage issues out back, replacing finishes and changing rooflines to match the look out front. The rooflines were changed to a "steep-sloped gable roofing that aligned with the massing of the existing home to provide a more balanced look," the award submission stated. New materials made a big impact at this part of the house. Off the master bedroom, a faux slate roof shingle was used, and snow guards were put in for safety.
In addition to improving the rooflines and fixing the water drainage issues, old termite damage required material replacement elsewhere too, all of which had to be removed and reframed. Front railings were replaced with a sturdier option. All exterior lights were replaced with copper fixtures to tie in with the copper gutters.
Inside they refurbished the kitchen, and modernized the look but this interior work was not part of the award.
They received their award at a ceremony, called the "Evening of Excellence," held on Saturday, Feb. 9, at the Westwood Country Club in Vienna.
Traditionally, Gayle and Ted Daniels use a creative approach to solutions when their team is working on a room or whole house project like the one in McLean. In a past master bathroom project, there was need for a vanity, so Ted Daniels created one by making space with the other additions. "It was really cool," added Gayle. "He finds creative ways to solve problems," she said. Unlike one of the reality shows on television, where the brothers take down drywall and uncover all kinds of problems that hike up the price and add to the drama but people don't like that in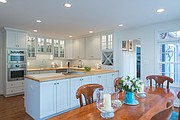 real life, so the Daniels stay away from situations like that. Although "things are always going to come up," she said, Ted tries to minimize change orders that could impact the price. "He really tries to keep it with that," she said.
One of their specialties is to outfit homes so seniors can age-in-place. This requires wider doorways for wheelchairs and walkers, lower countertops, and non-slip or heated floors. The baby boomers, "they're considering all the options to staying in their homes," said Gayle Daniels. Ted Daniels is certified in aging in place and green remodeling.
THE DANIELS' COMPANY started in 1997 at a location in Fairfax Station. They relocated to the City of Fairfax where they've been for the past four years. In January, Daniels Design and Remodeling of Fairfax, Virginia won "Best of Design" on Houzz, a platform for home renovation and design.