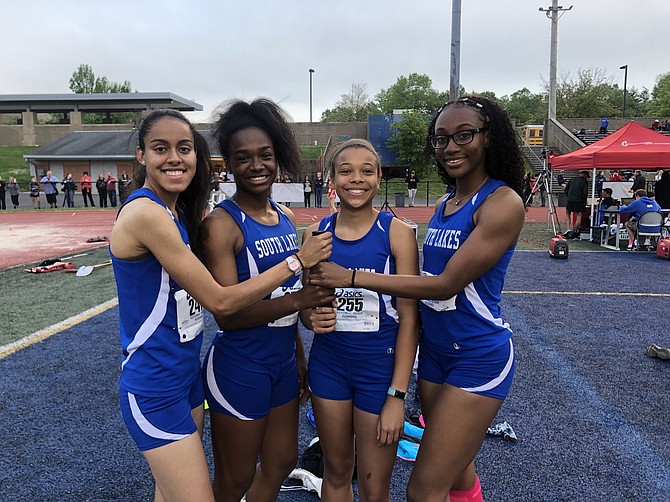 Another school record broken and additional postseason qualifications highlighted the two meets South Lakes High School track and field teams participated in during the first week of May.
After breaking the school record in the girls' 4x100 meter at last month's Penn Relays, they improved on that mark at the Liberty District Jamboree May 1 at SLHS.
Juniors Hannah Waller, Mary Gregory, sophomore Juviannadean Mullings and freshman Jillian Howard won the event in 46.86. The previous mark of 47.28 was set April 25.
In addition to the school record, Waller (12.04, 1st) and Howard (12.39, 3rd) ran 6A State Meet qualifying marks in the 100. Gregory finished fourth in the event with a 12.50, which is a 6A North Region D meet qualifying time.
Senior Nicky Napolitano had a region qualifying time in winning the 400 meters in 50.74.
At the Nike Spring Invitational, SLHS put on quite a performance for visiting Seahawk track alumni at the meet, which also honored the Class of 2019.
Seniors Asher Levy-Myers and Jonny Luu dominated the boys pole vault. Levy-Myers won the event with a vault of 13-03.00 followed by Luu (12-09.00), both state-qualifiers. Senior Isabelle Gulgert also had a state-meet qualifying performance by finishing second in the 1,600 meters (5:05.62). Junior Caleb Miller hit the state-meet mark in the discus throw with a 141-08.00 for second. He also won the shot put with a 48-03.50, a region-qualifying mark.
The Seahawks dominated the sprint competition winning the:
freshmen girls 100 meters (Howard,12.47, region-qualifier)
girls open 100 (junior Rhema Konadu,12.57, region qualifier)
boys open 100 ( junior Jackson Cooley, 11.12, state qualifier)
boys open 200 (Cooley, 22.82, region qualifier)
boys 4x100 meter relay team of seniors Nicky Napolitano, Daniel Ezidinma, sophomore Ebi Fiobotei and Cooley (43.67, region qualifier)
SLHS also swept both the girls 200 meters and 400 meters. Waller won both events with state-qualifying times of 24.75 in the 200 and 55.14 in the 400. She was followed in the 200 by Howard (2nd, 25.59, state qualifier) and Konadu (3rd, 26.42, district qualifier). As with Waller, Mullings (2nd, 56.96) and Gregory (3rd, 57.54) ran state-qualifying times in the 400.
Seniors Nicole Post (45.82, region) was first and Kristen Williams (48.34, region) fourth in the the 300 meter hurdles and junior Emily Lannen won the 800 meters in a region qualifying time of 2:17.59 in helping the girls team to win the Nike Spring Invitational. The SLHS boys team finished second.
The relay team of juniors Kelly Bidwell, Olivia Cochis, Frankie Delmolino and senior Kiara Johnson won the girls 4x800 with a time of 11:10.00.
South Lakes will send some members to the =PR= Spring Classic Wednesday, May 8 at Lake Braddock Secondary School before preparing to defend their Liberty District titles May 14-5 at SLHS.