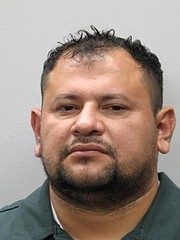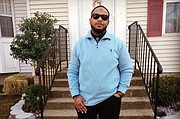 Since Centreville's Harold Garnett was killed 14 months ago, his then-pregnant girlfriend has given birth to their child. And the man responsible for his death has been sentenced to 10 years in prison.
The tragedy occurred Nov. 4, 2017, in the parking lot of Centreville sports bar, Velocity 5. Two men who didn't know each other, but who'd been drinking, got into an altercation, shortly after 2 a.m.
One was Garnett, 27; the other was Centreville resident Vidal Flores Cuchillas, 38. Garnett was much taller and heavier than Flores Cuchillas, but that didn't matter when the smaller man pulled a knife and fatally stabbed Garnett in the heart. Flores Cuchillas fled the scene, but police soon captured and arrested him, charging him with second-degree murder.
After a four-day trial, Oct. 1-4, 2018, in Fairfax County Circuit Court, the jury convicted him of voluntary manslaughter and recommended he serve a decade behind bars. Four days before Christmas, Judge Brett Kassabian imposed that sentence.
During the trial, one of those testifying was Reston Hospital trauma surgeon Ranjit Pullarkat. He explained how he'd operated on the laceration in Garnett's right ventricle and got his heart beating again. But Garnett remained in critical condition and died, that same evening.
Dr. Meghan Kessler, assistant chief medical examiner for Virginia, performed the autopsy. She testified that Garnett's stab wound, from his skin's surface to where the knife entered his heart, was approximately 1-3/4 inch deep. Kessler said the wound's path was from front to back and downward and that Flores Cuchillas's knife – which police showed her – was "compatible and consistent" with Garnett's laceration.
Garnett's friend and roommate, Christopher Cunningham, said they were drinking at Velocity 5 and Flores Cuchillas was there with two other men. They all left at closing time, with Garnett exiting ahead of Cunningham.
When he got outside, said Cunningham, Garnett and the three men were arguing. "They bum-rushed my friend, and that's when it became a [physical] fight," said Cunningham. "Harold shoves one of the guys back and he hit the ground. I was in a fight with the two shorter guys, and then both ran away. Harold was fighting [Flores Cuchillas]."
Cunningham said he couldn't see their fight but, afterward, Garnett walked toward him with "a blank stare on his face" and collapsed, falling and hitting the back of his head on the pavement. He also said Garnett was unarmed. "He was bleeding a lot," said Cunningham. "I was freaking out, yelling for help and asking people to call 911."
"I saw [Flores Cuchillas] running away, across Route 29," he continued. "I took off after him and said, 'You're not gonna get away.' When I got closer to him, I said I was gonna kill him." But Flores Cuchillas ran into The Meadows neighborhood, and police arrived and stopped Cunningham. "They came out with guns drawn, and I told them, 'He's over there; don't let him get away,'" said Cunningham.
Public defender Dawn Butorac said Flores Cuchillas, a mover, always had a folding knife with a 4-inch blade on him because he used it for work. She stressed that Garnett was 273 pounds and 5 feet, 9-1/2 inches; Flores Cuchillas is 140 pounds and 5 feet, 4 inches. And she said the man Garnett pushed to the ground was Edwin, a mute friend of her client's.
Flores Cuchillas testified via Spanish interpreters. He said he didn't know why Garnett and the others were arguing, since Garnett was speaking English and he doesn't understand it. But when he saw Garnett push Edwin to the ground, he said he intervened "so they wouldn't hit him anymore on the ground. Garnett came over me, pushing me."
"I told him, in Spanish, that we were leaving and didn't want any problems," continued Flores Cuchillas. "I raised my hands to tell him to calm down and that I didn't want to fight. But he continued coming after me. I swung at him because I was trying to defend myself. He hit me in the head many times and wouldn't stop. He was touching his waistband and I thought he could have a weapon. I had fear because he was big; I was afraid he would kill me because he was very aggressive."
Flores Cuchillas said he drew his knife to defend himself. He said Garnett then pulled back, "but I didn't know that I'd hurt him. I didn't want to harm or kill anyone; I wanted to go to my house." He said he didn't pay attention to Garnett after that and started walking home. Then Cunningham began threatening and coming after him, so he ran.
But police Det. John Vickery, who interviewed Flores Cuchillas, testified that the defendant never told him Garnett hit him. And Assistant Commonwealth's Attorney Ryan Bredemeier said Flores Cuchillas had "convenient amnesia" about the stabbing and, until he testified in court, hadn't said Edwin was being hit.
Furthermore, said the prosecutor, "The angle of the knife wound is consistent with what the medical examiner said. That's not an accident or self-defense; that's how you come at somebody – from above to down. This defendant took the knife out and plunged it into Garnett's chest."
After the jury deliberated and found Flores Cuchillas guilty of voluntary manslaughter, it then heard the attorneys' sentencing arguments. Noting her client's six children, Butorac asked for just a year in jail. But Bredemeier said Garnett was also a father – with another child on the way – and, unlike the defendant's family, Garnett's loved ones would never see him again. After further deliberation, the jury recommended 10 years.
Sentencing was Dec. 21 and, this time, Public Defender Brian Goodman argued on Flores Cuchillas's behalf. Asking for a lighter sentence, he took umbrage with Bredemeier's earlier statement that Flores Cuchillas would see his children again.
"He's undocumented, has been here illegally for 20 years and has an ICE detainer," said Goodman. "So after his release from prison, he'll be deported back to El Salvador, but the jury did not know that. He won't be free to walk around Fairfax County with his family, as the jury thought."
Goodman also contended that "There was no premeditation. This was a drunken, mutual-combat, bar fight. Mr. Flores Cuchillas clearly has an alcohol problem, but no history of violence in the 20 years he's been here. So this violence is an anomaly. He was a productive, loving member of his family, both here and in El Salvador. He's taken responsibility for what happened; he's been remorseful since the night of the incident."
Bredemeier, however, requested the jury's full sentence be imposed. "This sentence recommendation wasn't inflamed by passion," he said. "A man's life was taken, and the jury weighed the facts of the case and the statements from both families, and the community spoke."
"I believe the jury's recommendation is appropriate," he continued. "Flores Cuchillas has eight drunk-in-public [arrests]. He knows, when he drinks and goes out in public, bad things can happen and there are consequences. Yet he did it, over and over again – and this time, he did so armed. He will have the opportunity to speak with his family – Mr. Garnett will not."
Flores Cuchillas then stood and said, "I apologize to Mr. Garnett's family. I had no intention to do this." But, calling the jury's verdict fair, Judge Kassabian sentenced Flores Cuchillas to the whole, 10 years, plus three years' post-release supervision.
Afterward, outside the courtroom, Garnett's father, Harold Taylor, said his son has an older brother and five sisters and "It was devastating that they lost him; they're all hurting. We stay in contact with his son, 2, and daughter, 1, and their mothers."
As for the sentence, Taylor said, "It's the law. I feel as though, whether he got one year or 100, it doesn't make a difference — it won't bring [my son] back. But I'm good with it; it's fair."