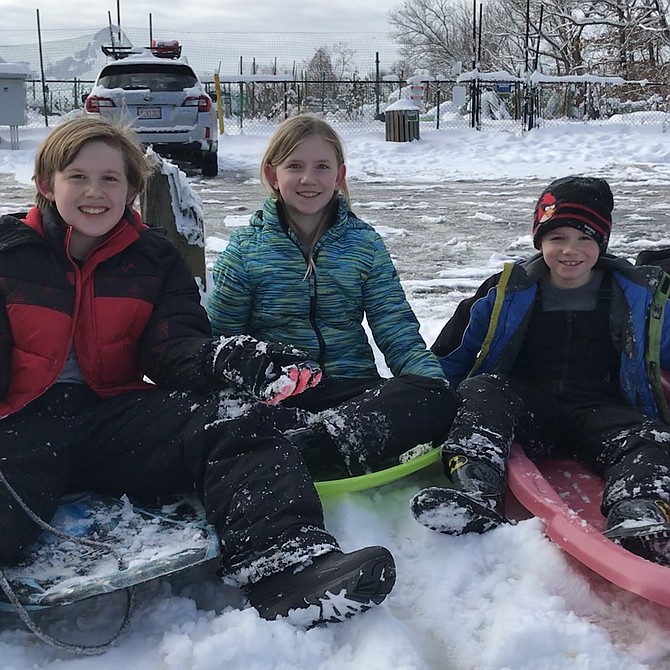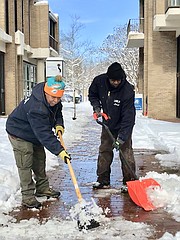 The first snowstorm of the season unexpectedly persisted through the weekend in the local area. After ramping up on Sunday, it dumped more than 9 inches of the powdery white stuff creating either play or work for individuals living and working in Reston.
While there are no official sledding areas in Reston, the Bass family, dad Chris and children Billy, 12, Taylor, 9, and Dylan, 6, conquered "Mount Reston." It is a beast of a hill with a creek at the bottom that adds to the excitement. The behemoth is located at the end of the parking lot behind the Unitarian Universalist Church, 1625 Wiehle Avenue.
Dad Chris Bass wisely stood at the crest of the hill as his children, and the dozens of other children and adults quickly worked up a sweat climbing back up the hill after each run. Bass said he was born in Reston and moved back when he had a family.
"I'm a teacher at South Lakes High School, and I'm loving the snow. I never get to hang out with my kids during the day. Snow days are great for the whole community. People come out and take advantage of the opportunity to play."
A second favorite sledding slope is "King Kong Hill" located on Hidden Creek Golf Course in Reston. The long steep hill is between Isaac Newton Square and North Shore Drive in the Golf Course Island area.
A short drive away at the Lake Anne Village Center located at 1609 Washington Plaza N., Reston, Lonnie May, Pablo Madina and other employees of the Lake Anne of Reston Condo Association (LARCA) shoveled snow and scraped ice from the brick plaza surrounding the lake and fronting condominiums, stores and small businesses.
"We started at 7 in the morning, and we will shovel to 3 this afternoon," said May. "The temperature is rising, so it's ok, but if the winds were blowing, we'd be in trouble."