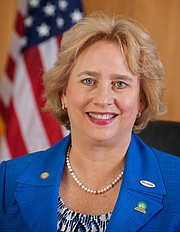 Town of Herndon Mayor Lisa C. Merkel and members of the Herndon Town Council approved a resolution naming Sheila A. Olem as vice mayor for the 2019-2020 term.
The resolution naming Olem passed with a vote of 6-0, with Olem abstaining. Traditionally, the councilmember who receives the highest number of votes during the general town elections is named to the post of Vice Mayor; Olem received the highest number of votes during the election on Nov. 6.
A resident of Herndon since 1990, Olem is serving her fifth term on the Herndon Town Council. As a councilmember she has chaired committees of the Virginia Municipal League; represented the town on the Committee for Dulles, the Dulles Area Transportation Association, the Phase II (Metro) District Commission, and the Northern Virginia Regional Commission; chaired the town's Pedestrian and Bicycle Committee; and more. Her volunteer commitments extend decades and include participation in in the Herndon High School Sports Boosters as well as community events such as Friday Night Live, Rotary – Green Lizard Bike-a-Thon, NatureFest, Herndon Festival, Herndon Garden Tour, Herndon Homes Tour, and Herndon Relay for Life, among other projects and events. She has also served as president of the Federal Water Quality Association (FWQA) and continues to serve on FWQA's scholarship committee. She is a member of the 2011 Leadership Fairfax class. She has also served on numerous boards including Council for the Arts of Herndon and Friends of Runnymede Park.
Olem is an independent sales associate representing Aflac. She also owns and manages commercial real-estate. She holds a master's degree in Health Administration from the University of Memphis and a bachelor's degree in Education from the University of North Alabama.
Olem was married to the late Harvey Olem and raised their two sons, Mike and Matt, in Herndon.