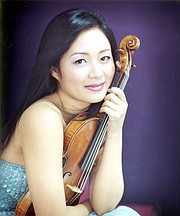 Sumptuous music, from composers Mendelssohn and Schumann, will create an evening "rich in emotional and intellectual music content," said Christopher Zimmerman, Conductor, FSO. The FSO evening event includes guest violinist Chee-Yun performing Mendelssohn's "Violin Concerto" and the FSO orchestra playing Mendelssohn's "Hebrides Overture" and Schumann's "Symphony No. 2."
"To my knowledge, the FSO has never focused on these two contemporaneous composers in one concert. They are towering figures of the early Romantic period in music who set the 19th century ablaze in the wake of Beethoven." added Zimmerman.
Mendelssohn and Schumann are "composers who characterize the essence of 'romanticism' in music. Both were prodigious geniuses with an unrelenting need to write music," added Zimmerman.
"Audiences should come to the performance because the music is wonderful," noted Zimmerman. "And Chee-Yun has an extraordinarily mesmeric stage-presence and engaging personality matched, frankly, only by the brilliance and virtuosity of her playing."
Mendelssohn's "The Hebrides Overture" was inspired by a visit he made in 1830 to the barren and windswept Hebrides islands off the Northwest coast of Scotland. Later that year he wrote this piece, evocative of what he experienced: the power of the sea that surrounded him and its constant ebb and flow, at times threatening.
Schumann's music is very different in emotional content according to Zimmerman. Schumann was severely manic-depressive, ultimately dying at the age of 45. His music often reflects the virulent bouts of torment alternating with joy that he experienced. "Symphony No.2" has abrupt and ever-shifting changes of mood, sometimes serene, sometimes combative. "It is a dramatic journey from despair to euphoria-against-the-odds," said Zimmerman.
Chee-Yun's first public performance at age eight took place in her native Seoul after she won the Grand Prize of the Korean Times Competition. At 13, she came to the United States to perform. Since then she has performed with many of the world's foremost American and international orchestras and conductors. Chee-Yun teaches master classes as well.
Playing her flawless 350 year old violin for the virtuoso three movement, nearly 30 minute concerto, Chee-Yun said, "I want to transport audience with a journey of emotions with the much beloved Mendelssohn 'Concerto.' I want the audience to have a great experience. To be enthralled and transported as I play."
In times of personal and community stress, Zimmerman added that "classical music can provide great meaning and satisfaction, even perhaps be a healer."
Where and When
Fairfax Symphony Orchestra performing Mendelssohn and Schumann with guest violinist Chee Yun at George Mason University, Center for the Arts, 4400 University Drive, Fairfax. Performance Saturday, Feb. 2, 2019 at 8 p.m. Tickets: $65, $43, $39, and $25, with $15 student tickets. Purchase tickets online at www.fairfaxsymphony.org or by phone 703-993-2787. Note: Before the concert at 7 p.m. a discussion with the artists and FSO music director Christopher Zimmerman.