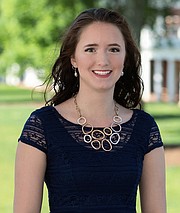 Claire Hungar of McLean, a May graduate with a double major of English and sociology with a minor in American Sign Language at the University of Virginia, will teach English in Romania. She also wants to volunteer with ministries that work with orphaned children and their adoptive families and learn about Romanian Sign Language.
"Receiving a Fulbright enables me to explore another country and culture and represent the United States to Romania," she said. "I will be teaching at a Romanian university as well as engaging in outreach to the deaf community in Romania. This ties into my interest in disability law as well as my minor in American Sign Language."
An Echols Scholar, Hungar is a member of Phi Beta Kappa, the Raven Society, and the Phi Eta Sigma honor society. She was a support officer and outreach coordinator on the Honor Committee; a volunteer with Rise Together for Madison House; vice president of outreach for the Parliamentary Debate Society; a content tutor for the Cavalier Academic Support Team; a research assistant for Brad Wilcox and the National Marriage Project at UVA; and the recipient of the 2017 Wagenheim Prize for Best Literary Essay. A home-schooled student, Hungar plans to pursue a career in law, possibly disability law, education and healthcare policy.
"I have always wanted to fully immerse myself in another culture and take myself out of my comfort zone," Hungar said. "Fulbright is the perfect opportunity to do this, to expand as an individual and to learn about myself and others. I have always wanted to return to Romania after a brief visit in high school, as I was incredibly touched by the people I met there."
Hungar is also drawn to Romania's deaf community.
"As someone who has lived in full immersion ASL housing for the last two years, I have a deep appreciation for the deaf community in the United States and desire to learn more about the community in Romania," she said. "This is truly a dream come true."