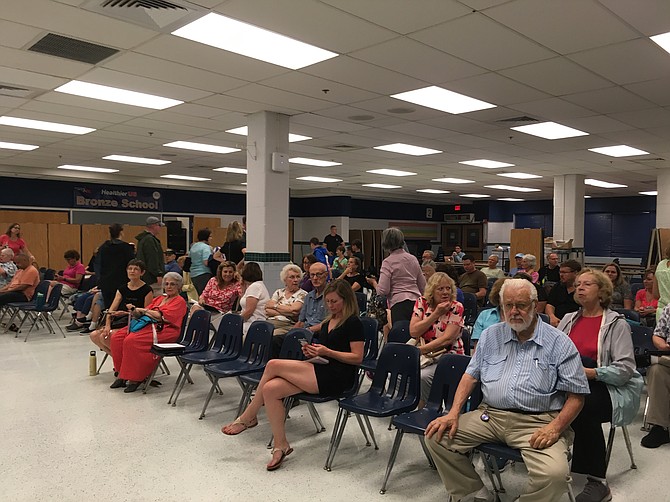 On her way to pick up her son from Lee District Park, Tabitha Beck knew something was up when the ambulance went by this normally quiet area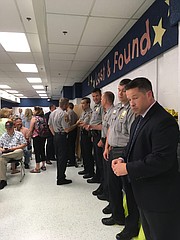 near Rose Hill. A shooting had just occurred, and this brought her to the police meeting at Rose Hill Elementary School the following week to find out more. "A little too close to home," she said, "I have young kids, want to make sure we have a safe neighborhood."
These shootings were the topic of discussion at a few different community meetings last week. The cafeteria was packed with area residents looking for answers, some of which the police did not have. "We have very little information, no one is cooperating with us," said Fairfax County Police Chief Edwin Roessler.
The first shooting occurred Monday, July 1 around 11 p.m. when two juveniles were shot at the playground at 3026 Fordson Court off Richmond Highway, police said. The juveniles attended Mount Vernon High School and the shooting was gang related, police said.
That was followed by a shooting on Tuesday afternoon, July 2 in the parking lot of the Midieast Studio, located at 6404 Telegraph Road, and then another on Wednesday night again at the playground on Fordson Court again. There were three injuries resulting from this shooting which police said were non-life threatening. "There is a relationship running through these cases," Chief Roessler said, but wouldn't elaborate.
The Midieast Studio shooting was the one the audience seemed to be worrying about, bordering the Rose Hill community on the north. Since it is right on Telegraph Road, people drive by it frequently. "There's always people hanging out there," said one speaker.
Supervisor Jeff McKay (D-Lee) was asked about the zoning of a sound studio so close to the neighborhoods, but he said it was legal. It's zoned C-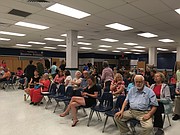 8, and "by right zoning," McKay said. "In Virginia, property rights are pretty strict," he added. Del. Mark Sickles (D-43) was in attendance as well.
While the audience was expressing concern about the studio in that area, the studio owner, Willfredo Torres, spoke up. It wasn't exactly at the studio as reported, he said, defending his business. "It happened in front of the Doggy Daycare," he said. Torres supplied the news stations the video footage that has been seen on television, even though the police didn't want it shared. Torres thought it would be handy in identifying the perpetrators. "I'm just like you, I'm scared," he said.
Torres arrived with Kofi Annan from the local NAACP chapter.
According to police, "The suspect's vehicle was described as a white SUV with dark tinted windows, possibly occupied by three young black males," read the police blog report. Annan had been to the other two police meetings earlier and didn't want racial profiling. "What we don't want to do is knee jerk reactions," he said. "Tough on crime policies don't work."
Comments from attendees varied on topics, but each was restricted to a three-minute limit. While the first speaker wanted everyone to know he was registered to carry a firearm, other topics varied from a shooting in May, gangs, and the information they were getting at the meeting was not what they needed.
"Tell us what we're looking for," said one man, and 2nd Lt. Steve Wallace of the homicide unit reiterated what the police chief said earlier. "We haven't gotten descriptions from people around there," he said.
The Fairfax County Police will continue to engage with area residents on this case. "This includes an increased presence in neighborhoods where the shootings took place. Additionally, our detectives are working around the clock to conduct interviews, examine evidence, and develop and pursue all investigative leads as we work to bring a resolution to these cases," the police blog said.
There were two other shootings in Springfield on July 3 that the police said were "worth noting," on their poster.