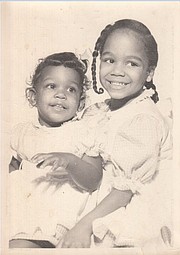 One year after graduating from Parker-Gray School, John Leonard Taylor married his high school sweetheart, Beatrice Virginia Cross, on Aug. 20, 1955. For three years, they lived with John's parents, Charles and Dorothy Taylor at 406 North Alfred St. After the birth of their second daughter, John and Beatrice moved to 411 North Pitt St. with their two daughters, Karen and Rhonda.
Karen and Rhonda have fond memories of their childhood growing up on North Pitt Street and on South Payne Street. During a conversation with these two women about their dad, Karen said, "My dad taught me how to dance. When I was five or six years old, he took me to a children's debutante dance. I was dressed in a long dress and my dad and I danced, my first dance." These were special moments that the 63-year-old woman remembered from her childhood.
For Rhonda who will be 60 soon, also had a special bond with her father, "When I was four or five years old, my dad was babysitting me one day when mom was out, and he wanted to go to a show at the Lowes Theater. He attended the show with me in his arms. I was the only child there. Also my dad and I would joke a lot. He is very funny. He knew I would laugh at his jokes."
Mr. Taylor spent his career as a Metro bus driver, Metro operator and he retired as a Metro Station manager. He loved to drive. One of his outings with his daughters was when they were small; he took them to Norfolk for the day just to have lunch and returned home.
Both women said their father prepared them for life. He taught them how to check the oil in a car and change a tire. Mr. Taylor told his girls about having good work ethics and earning their own money. Also he shared with his girls what his father told him: Never take off on a Friday or a Monday and make sure when you are at work, you are working.
But one of the most important lessons they learned from him was about family. During the period of segregation, their dad would take them on trips to the colored beaches with his siblings and their family, and his friends and their family. It would be five car loads of them going to the beach. Those same family members and friends would watch the football game every Sunday at their father's house. When they were living on North Pitt Street across from the Police Department, the police thought they were fighting inside the house because they became very loud when watching the games. Once the police arrived and found out that they were watching the game, the police would stay to see the game. To this day, their dad would invite family and friends over for the Sunday football game.
These fond memories of their childhood have brought Karen and Rhonda closer to their parents. As their parents age, the yesteryears seem to be very important lessons about life. Their childhood with their parents may seem simple but meaningful. They always felt their parents gave them the best. Today, their parents' family consists of three grandchildren, 14 great-grandchildren which includes triplets, and a host of other children they have included in their family. Karen and Rhonda want to let their Dad know that they appreciate all the special things he has done for them. They are proud that he is their Dad.

Char McCargo Bah is a published author, freelance writer, independent historian, genealogist and a Living Legend of Alexandria. She maintains two blogs, http://www.theotheralexandria.com and http://www.findingthingsforu.com.