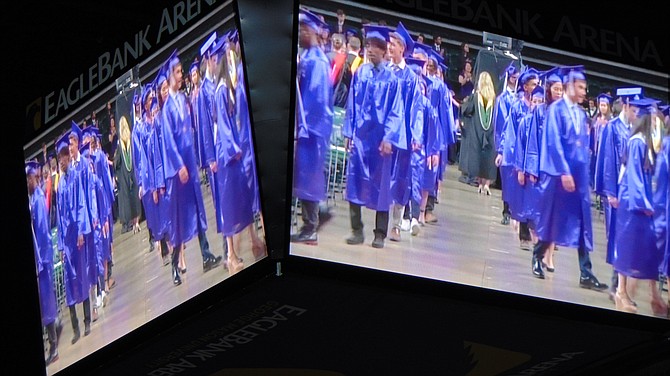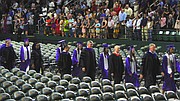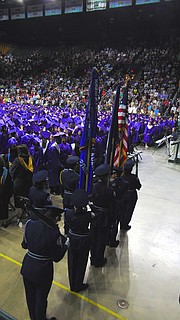 With dignity, pomp and circumstance, to the tune of music by the Symphonic Winds and Orchestra and Chamber Chorale, Chantilly High School held its 2019 commencement exercises for 661 students on Tuesday, June 4, at the GMU Eagle Bank Arena in Fairfax.
According to Dr. Scott Poole, Chantilly High Principal, who welcomed guests: "The most rewarding part of my job is when I experience students being successful, especially after they overcome significant challenges and setbacks along the way."
He said, "In short, there are 661 champions of all kinds sitting in front of me, and the staff as well as your parents are proud of the champions that you have become."
THE CLASS OF 2019 had some impressive statistics: 176 seniors were honor graduates; 70 percent of the graduates will be attending colleges -- 341 at state institutions; and 17 percent of those students are the first to attend college in their families. The class received $7 million in scholarships and 1,279 students received industry certifications.
A highlight of the evening was theater teacher Shannon Khatcheressian, who gave the keynote address, and opened by joking: "Ellen Degeneres, if this goes viral and somehow gets in front of your steely blue eyes, I am turning 40 this July and the only thing I want to do is dance with you on your show for 30 seconds."
She told the students: "We need to remember that we have all been given gifts…. The gift of laughter will get you far my friends; you have to have the ability to step back and laugh at yourself as you have found out -- you will screw up, you will fail and you will be embarrassed, and you can let those small moments define you or you can laugh at them as part of your journey…."
"Instead of looking at the problems life gives you, what if you looked at them as an opportunity?" she added. "Because, look, we're going to be flooded with problems big and small, and everyone in this room has discovered, we can look at a problem and say, 'Why me?,' or we can look at it as an opportunity and say, 'What can I do with this? What can I learn from this?'"
The Honor Graduate Speaker was Benjamin "Benny" Blue, who was diagnosed with Asperger's Syndrome at a young age. "You are amazing, you are fantastic, you are powerful and you're going to do great things. It would be a crime, an act of vandalism on existence itself to deprive the world of your attempts, and if you stumble and fall the impact will shake the earth, and that is just more evidence of the power inside you to get back up again," he added.
THE WINNER of the 2019 Charger Award was Kartik Chugh, a student who displayed character, honesty, accountability, respect, growth, excellence, responsibility and service. According to Robyn Lady, Class Administrator and Director of Student Services: "This year's Charger Award winner demonstrates strong integrity and carries himself with poise and compassion. He takes time to genuinely listen, wants to help and is appreciative of any time that one can give him. This student loves to learn, always strives to be kind and do the right thing and learn from his mistakes. His simple acts of kindness do not go unnoticed."
The Faculty Award was presented to Dylan Sparks by Dr. Poole, and the presentation of the Class Gift by Jade Heilemann was picnic tables for the football field.