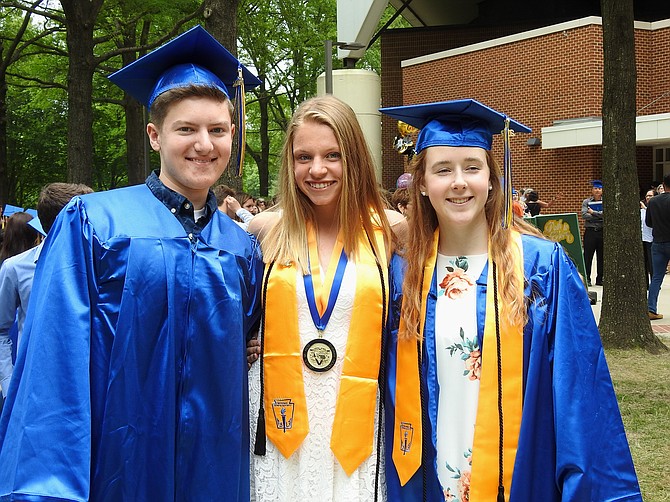 Almost 630 students walked the stage at the Robinson Secondary School graduation ceremony held Wednesday, June 5 at the EagleBank Arena.
Commencement opened with words from acting principal Tracey Phillips. She advised students to follow their passions and to not be discouraged by hardships and other people's opinions. "If you work hard, stay true to yourself, and be kind to others, you will be successful," she said. "Don't be afraid to take challenges and push yourself."
Phillips also shared a quote from Steve Jobs encouraging the students to be themselves and forge their own futures: "Your time is limited, so don't waste it living someone else's life."
Keynote speaker Michael Fones, a Robinson eighth grade civics teacher, also spoke of the importance of choosing a career path that is true to one's own interests. He described his experience of going to college for economics and later attending law school, though neither were his true passion. During his 10 years as a lawyer, he said he was "going through life with my head down."
Fones later found his true calling as a teacher. After recounting his journey to finding his dream career, he assured the students that being unsure of the future is normal. "If you're not sure of what you want to do, don't stress about it," he said. "You have time, and your life's going to lead you down paths that are unfathomable to you right now."
The Class Address, given by graduating senior Dalia Ortiz, however, focused more on reflection and gratitude than on giving advice. Ortiz structured her speech in the style of a "Chicken Soup for the Soul" book. Titling her speech "Chicken Soup for the Robinson Senior Soul," she split her address into three separate stories each written for "a different influential group," she said. "Three groups of inspiring people that have made our high school journey an enduring one."
The first story she shared was for the teachers. "Walking into first period, and there you are," Ortiz began. She stylized "you" to mean all the teachers she saw during her high school career put in extra effort for their students. "You're always there," she said. She ended this section of her speech thanking those teachers for their commitment, saying "we don't know how you do it, but you've always been here with us. And teacher, we thank you."
Her second story was written for her fellow students. She began by reminding her peers that "sometimes you never know the value of a moment until it becomes a memory." She went on to list memories she had shared with the student body and reflected on what those times meant to her. "This chapter in our story is at its final lines," she said to close this part.
Modelling her final story after the book "Goodnight Moon," Ortiz recognized the families in the audience. "Goodnight room, goodnight cap and gown, goodnight to everyone from out of town," she said. "Goodnight stars, goodnight air, goodnight and goodbye Robinson families everywhere."