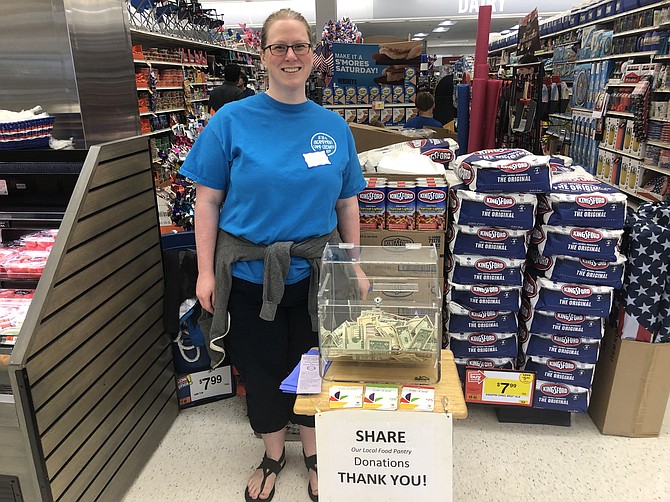 Shoppers at a local grocery store donated nearly 1,500 pounds of food during a "Stuff the Bus" event at the McLean Giant Food Store Saturday.
SHARE, Inc. – a nonprofit that provides emergency assistance to local families – joined with the Fairfax County Office of Public-Private Partnerships to hold the collection event, which will support local families in need. The event collected 1,468 pounds of food, $1,097 of cash and $175 worth of gift cards.
Volunteers provided shoppers with a list of suggested items for donation, like canned fruit, applesauce, flour and canned protein as they entered the store. Shoppers could drop off their donations after they checked out.
Betsy Rice, who helps run the food drives at Giant, said the shoppers and store management have been very supportive of the drive and provide critical items for the 348 people SHARE currently serves in the McLean area.
"Every time we meet different people who are willing to come out and donate," Rice said. "One woman took the form, she said, 'I'm not sure I have time to do this.' She came out with two bags full of stuff for us, and one item that she had gone into the store for. And that generosity is the kind of stuff that really just smacks you in the face."
Rice said volunteers organize food drives about every six weeks, but that's just a small part of SHARE's impact. The organization runs free haircut events annually as well as collection drives for school supplies and clothes, she said.
She said SHARE also collects technology items, like computers and scientific calculators, which are reconditioned by retired government technology workers, Rice said.
Rice added that many of the volunteers are high school students who just finished the school year and are looking to fulfill their service hour requirements.
James Durney, a high school student and volunteer who helped weigh and move the donated food throughout the day, said while he volunteered because of his school's service requirement, he knows his work will have a local and immediate impact.
"This is local," Durney said. I live nearby, right near Langley High School. A friend told me that this is a good place. It's right here – we both live in McLean – to get some good hours in."
As the volunteers worked to sort and weigh the food, shoppers kept piling on more donations as they exited the store.
"We hope that we can reach out and help some folks that need it, and it's a fine thing to share," Dave Rosner, a shopper who made a cash donation, said. "You're just trying to make an impact wherever it could be best made."