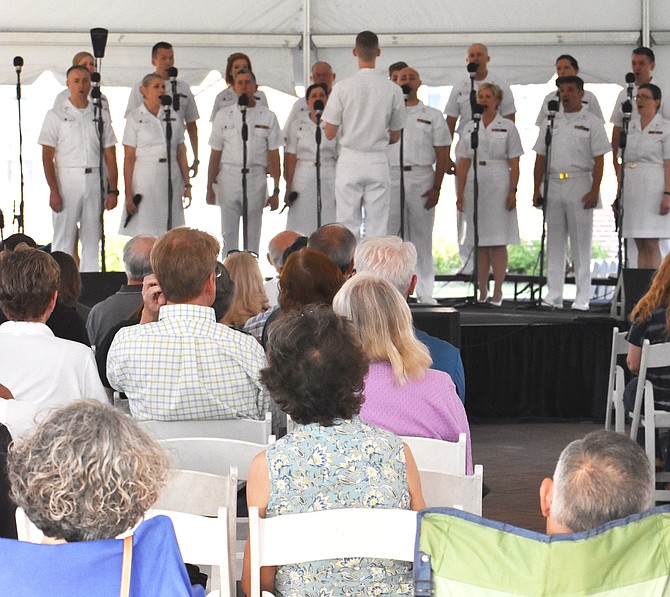 On Saturday, June 15, Mount Vernon Nights hosted the United States Navy chorus, the Sea Chanters, at Workhouse Arts Center. Mount Vernon Nights is one of several summer concert series put on by the Fairfax County Park Authority in districts across the county. Every concert in the series is free to the public and features local bands of varying genres.
The Sea Chanters began their performance with "Come Alive," a song from the movie "The Greatest Showman." Their set wasn't all musical covers, though. They also sang 1950s doo-wop, sea shanties, and patriotic songs like "God Bless America." The group closed the show with a medley of different songs, ranging from "Get Happy" to "Take Me Home, Country Roads."
The concerts at Workhouse Arts Center are popular activities for families to enjoy summer nights together. Pru Bovee, a resident of Burke, was there with her son and sister and said she goes to the "Workhouse almost every time" there is an event there. "I love the atmosphere," she said. "It's very family friendly."
Tracy English from Springfield also went to the Sea Chanters concert with her family. She said they try to go to a few performances in the concert series every summer because they enjoy spending time outside. "It's something different to do," English said, rather than simply staying at home. Her family also attends concerts at the other Fairfax County Summer Entertainment Series venues, including Springfield and Braddock.
Many people choose which concerts to attend based on the music that will be performed that night. Mel Silberzahn went to see the Sea Chanters on Saturday because he is a Navy veteran. But, he usually goes to concerts that feature folk and bluegrass music because those are his favorite genres. Bovee also chooses concerts according to music taste. She prefers pop songs and "anything [she] can sing along to," she said.
Mount Vernon Nights will continue hosting free outdoor concerts through Aug. 31 every Saturday at 7 p.m. It will feature bands of all genres, from jazz to R&B to Bollywood. Families and pets are welcome.