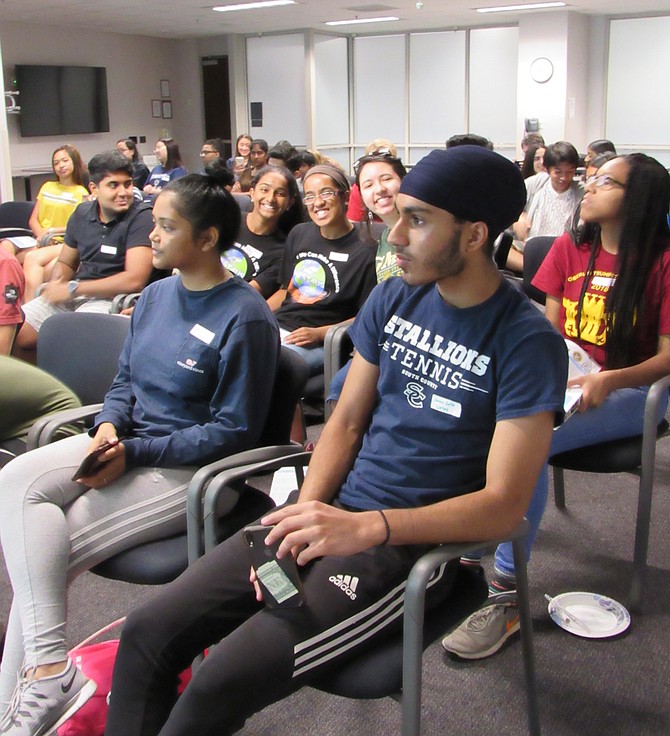 Environmental Student Leadership Initiative, formerly known as the Eco-School Leadership Initiative, presented its 5th Annual Fairfax County Environmental Conference. Held Saturday, June 22, inside and on the grounds of the Fairfax County Government Center, the free, day-long event helped high school and college students learn how they, as student-instructors could get involved with environmental education initiatives. By teaching elementary school students using hands-on and engaging interactive games and activities, in the process, the young students would become interested in fighting environmental problems and become future leaders in their communities.
In her Opening Remarks as Conference co-chair, Wendy Gao, a student at Oakton High School, admitted to the 45 Northern Virginia high school and college-aged students seated before her, that when she joined ESLI two years ago, she didn't know how to solve climate change nor did she consider herself an "Earth enthusiast." Gao said she knew at the time that climate change was caused primarily because of fossil fuel corporations and "their political and economic lobbying power." Gao said she thought that creating policies to curb these corporations was the only way to solve the problem. She added that after joining ESLI, she understood that to reverse climate change, all aspects of society — political, economic, social and academic — must "move in the same direction."
THE MISSION of ESLI is to create a network of young people who are passionate about environmental education. "Climate education is not a requirement in public school systems, and many schools don't offer environmental science courses," said Gao. "There is a climate knowledge gap ... and that's why ESLI and environmental education is fundamental to the environmental movement .... We do what we do because young people have a lot more power than we're allowed to believe," she said.
During the conference, attendees visited two out of five workshops; each illustrated a lesson student-educators could teach elementary school students. The interactive experience used available ESLI curriculum, lesson plans and materials which would be made accessible to student-educators who chose to volunteer their services as a teacher through an ESLI chapter — and how to start an ESLI chapter at their school if one isn't already established.
"This is what I expected as I wanted to get exposure to learning different aspects of the environment and implement teaching these concepts at local schools," said Gitika Gorthi, 15, of Oak Hill.
AGaurav Sethi, 16 and a student at South County High School in Lorton, was excited to network with other students his age. "I love to work with my peers, and this is the perfect opportunity for me because there are many people here with the same interest and passion," Sethi said.
At the "Water Workshop Lesson," co-led by Celeste Phillips, Madison High School student and Maria Harwood, Northern Virginia Soil & Water Conservation District, attendees used a 3D EnviroScape Watershed education model. Through hands-on, multi-sensory experiences, conference attendees learned, as their future young students would learn, what a watershed was, how stormwater runoff carries pollutants through the basin to a pond, lake, river, bay, or ocean, and best practices to prevent this type of pollution from occurring.
Tim Turner, 16 of Lorton, said, "My main goal was to be able to understand more about our environment so I could inform younger children at elementary schools. ... The change starts with them."
AFTER LUNCH, Pat Hynes, Fairfax County School Board, Hunter Mill District, recalled seven years ago when the board received a presentation from the founders of ESLI, "we were very impressed … but we worried about whether it would last after the founding students graduated. … Well, not only has ESLI survived, it has thrived," said Hynes.
"The school board's strategic plan is grounded in what we call the portrait of a graduate. Those important skills we want our FCPS students to build, collaboration, critical and creative problem-solving, and effective communication, are best taught through project-based learning, real-world problem-solving through student-centered projects. … We teach best and learn best in community through relationships and meeting real-world challenges," Hynes said, "I don't worry about ESLI continuing any more. Our challenge, as a school system, is to keep up and make sure we are taking full advantage of what you, as students are offering," she said.
For information about those who supported ESLI and how to join an existing chapter or create a new one, visit www.eslileaders.org.
ESLI Chapters
ESLI High School Chapters in Fairfax County
Chantilly High School
Langley High School
South County High School
Marshall High School
Madison High School
Oakton High School
Robinson Secondary School
Thomas Jefferson High School
South Lakes High School
ESLI Virginia University Chapters
The College of William and Mary

Virginia Commonwealth University


Viewpoints
What Brings You to the Conference?
Jasmine Evans, 15 of Chantilly: "I think as time goes on our environment is getting worse and worse. I would like to improve and make future generations know how to take care of it."
John Ray Morriberon, 18 of Chantilly: "I probably won't be able to use all this knowledge soon because I recently graduated. In the future, I might use what I learn because I homeschool my sister."
Sarah Garcia, 14, of D.C.: "I had this thing in school where I taught second graders about the environment. It was a school project. I was really interested in doing it more and my friend recommended me to ESLI."
Hita Yalla, 16, of Ashburn: "It's very simple to use resources that are very accessible to you, like plastic. ... It's important to teach children to use alternative sources so they don't fall into the mindset of 'this is accessible, so I will just use this.'"
Aadi Karthikeyan, 16, of Chantilly: "I'm here today because I think educating elementary school students as early as Kindergarten about environmental studies is the only way to instill awareness in the youth of today."
Janhvie Hoshi, 15, of Fairfax: "I wanted to learn ways we can spread the message of keeping our home, our bay clean. Because young minds are easily influenced… it's important to teach them the right way to respect and maintain the beauty of their home."
Trisdan Ko, 16, of Lorton: "People don't realize and need to begin to realize the ways we are able to conserve our planet. We don't realize how everyday products… contain harmful by-products. The only way to help solve this issue is to inform others."
Daniel Huffman, 17 of Chantilly: "I came to this conference because young people are the ones who are going to experience the worst of the climate crisis and it is important that they are equipped with the knowledge and awareness necessary to address it."
Christy Gao, 17, of McLean: "I'm the co-president of the ESLI club at Langley, therefore I'm here to learn about ways I can help to expand our club activities and help the kids in my community to start caring about the environment."
Bridget Lee, 17, of Great Falls: "Our actions are hurting our Earth's environment and therefore the health of plants, animals, and us. If we continue our harmful actions, the Earth will continue on this path. I want to join students like Greta Thurnberg in helping the environment for all our benefit."
Raj Solanki, 15 of Herndon: "[I came today] to learn about how we can help the environment by teaching others about how important it is."
Devin Cates, 16, of Herndon: "I hope to spread environmental awareness because there are a lot of people who don't know how fast climate change is coming."
— Julia Zhou